As an Amazon Associate, we earn from qualifying purchases. This is without any additional costs for the buyer but does support us in maintaining our website.
I may be the luckiest guy on earth. I have found something that combines two of my greatest passions; kayaking and fishing.
Fishing for trout in Scotland's backcountry streams is one of my fondest childhood memories. When I took up paddling a few years ago, it was never with the intention of casting a line from a boat. But when I discovered kayak fishing, it was a match made in heaven.
Fishing from a kayak is one of the most awesome experiences you can have. There's just something magical about being the captain of your own ship and being able to go where the fish are.
If you've been sitting on the water's edge thinking about getting into this popular and fast-growing sport, this post will teach you how to start kayak fishing even if you've never tried either sport.
So, without further ado, I present to you the ultimate guide to kayak fishing for beginners.
Skills Required
There's certainly a knack to kayak fishing, and unless you're experienced with both activities, it can be a little tricky in the beginning. But trust me, it is well worth persevering.
As simple as it sounds, the secret to being a good kayak fisherman is to be both a good paddler and a good angler.
If you're already a keen fisherman, get out on the water without your rod and learn basic paddling skills. And if you come from a paddling background but lack fishing experience, fish from dry land until you're comfortable with casting, striking, reeling in, and landing fish.
Most kayak anglers have never taken kayaking lessons. With a little guidance, most people can pick it up basic strokes and balancing within 30 minutes of being on the water. However, learning advanced paddling techniques will improve your odds of catching.
Being an efficient paddler will allow you to cover larger distances and get to the fish faster and without stirring them. Besides effective paddling techniques, you'll also learn safety practices such as self-rescuing, which are always handy to know when you're playing on the water.
While kayaks are stable, there is a chance of taking a dip while learning how to paddle.
Kayak fishing is a lot like riding a bike for the first time. Expect to fall and skin your knee a few times in the learning process. With experience, you'll learn the limitations of your kayak.
It will not be long till your paddling with one hand while holding your rod with the other.
Advantages of Kayak Fishing
So, why is it worth persevering? Well, for starters, kayak fishing is an exciting, healthy, and inexpensive hobby.
You also have way more freedom. You're not restricted to the riverbank or pier, and you have much more versatility than you do with larger fishing charters.
Let's explore some of the benefits of kayak fishing in more detail:
Access to the best fishing spots – Kayaks are small, nimble vessels that can reach waters too shallow or narrow for larger fishing charters. Kayak fishing opens up a whole load of new areas to be fished.
Environmentally friendly – Motor mounts are optional, and you can substitute fuel for good ol' fashioned muscle.
No noise – Without the rumble of an engine you can easily sneak up on fish.
Health and wellbeing – paddling is good exercise and can be enjoyed by people of all ages. It allows you to reap the body and mind benefits of exercising in the great outdoors.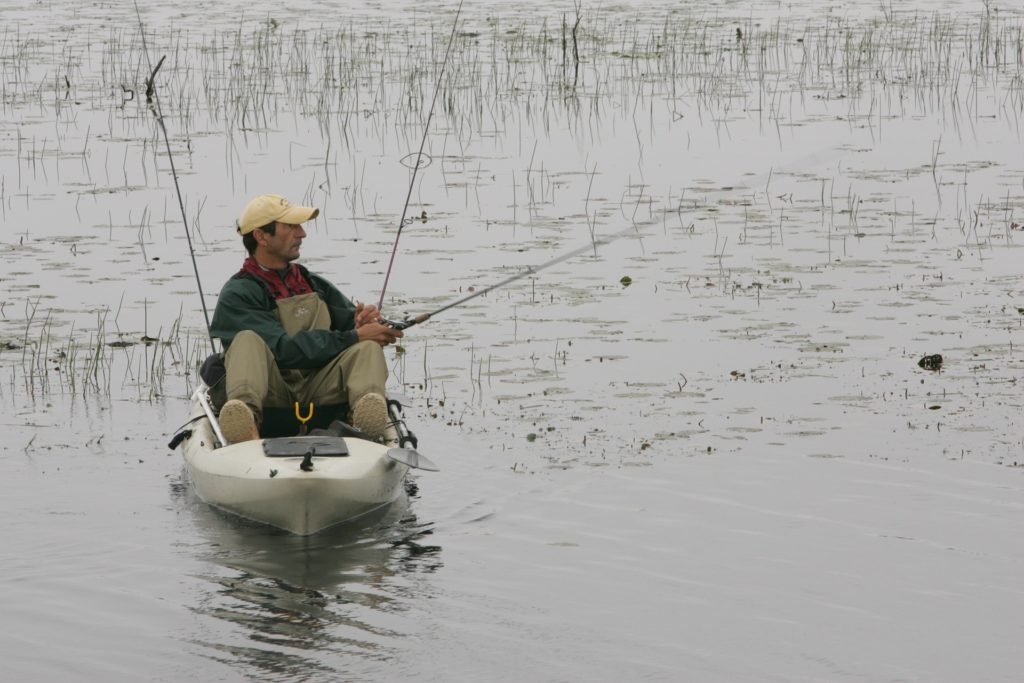 Any Downsides?
The thing that holds most people back from getting started kayak fishing is the price. The initial outlay can be expensive, especially if you're starting completely from scratch and need to purchase fishing gear as well as a kayak and paddling equipment.
However, apart from the odd lost lure, it's a one-time purchase that will bring you enjoyment for many years to come.
The First Step
Your first step in getting started kayak fishing is to figure out if this sport's for you. This sounds basic, but you need to be certain you're going to enjoy it before dropping $1000 on equipment.
Test the waters by paying for a kayak fishing day trip with a local tour operator, or hopping on board a mate's tandem fishing kayak.
Paddling stores often have kayaks for rent if you don't know any yak anglers. Hire a kayak for the weekend, take it to a shallow pond, and dangle your rod over the side. Don't worry about catching; the purpose of the exercise is only to get a feel for kayak fishing.
What to Look for In a Beginner Fishing Kayak
The many different types of kayaks available can send newbies into a head spin. I mean, if you've never paddled before, it's difficult to know the difference between a kayak and canoe, or a sit-on-top kayak vs a sit-in kayak, never mind what one suits you better.
My advice is to test drive different boats by taking advantage of demonstration days or renting a kayak for a weekend.
Test Driving Kayaks
When testing a kayak, really paddle around, get a good feel for it, rock it from side to side and see what it's going to take to tip it.
Try getting on your feet if you intend to sight fish standing up. Test stability by rocking the yak with your feet, turning and twisting, and reaching down to the bow and stern for imaginary gear.
Proper due diligence up front will save you from losing money when you have to switch kayaks a few months down the line.
Where Will You Go?
When it comes time to buy your own fishing kayak, the decision should be based on where you'll fish most and the conditions you'll encounter there.
Not all fishing kayaks are the same, and there is considerable variation in stability, manoeuvrability, and price between kayaks that have all been identified as "fishing kayaks".
Kayaks that are adapt for slow-flowing rivers and calm lakes can be turbulent when paddling through waves on the coast.
Deciding whether you're going to be paddling on choppy ocean waters or smoother inland waters will narrow down your suitable choices.
Stability is the Number 1 Factor
As a beginner, you should be looking to purchase the most stable kayak you can afford.
The width of the kayak, profile of the hull, and the amount of rocker all play a part in the overall stability of a kayak.
Generally, newbies want to stick to a ten-foot kayak that has a flat and wide hull. This type of kayak will be very stable in calm waters and should be balanced enough for you to stand up and fish if you wanted to.
Longer kayaks are faster, but they are less manoeuvrable. Sacrificing speed for stability often makes sense when you're primary goal is fishing.
That said, wide kayaks can be a pain in the ass to paddle. You need to strike a balance between stability and usability.
How Much Does a Beginner Fishing Kayak Cost?
Brand new fishing kayaks can range from anywhere from $300-$4000!
I would suggest newbies stick to a yak around the $500 mark. For that price you would get a decent beginner yak that would come with a couple of rod holders, a padded seat, dry storage hatches, bungee tie downs, and maybe a free paddle.
It won't have all the bells and whistles, but you can modify your kayak when you know what features you're missing, or you can upgrade in time.
Don't shy away from used kayaks either. Kayaks last for years if not decades, and there is often nothing wrong with second-hand yaks. Good-as-new yaks complete with a bunch of accessories can be found on EBay for less than half the price of a brand new model.
Other Stuff to Consider
In addition to fishing location and stability, beginner yak anglers will also want to consider the following:
Seating – how many people would you like to take on board?
Weight capacity – check the kayak can safely handle the combined weight of you and your equipment.
Storage compartments – is there adequate space for rods, tackle boxes, coolers, backup paddles? Is there dry storage for valuables?
Accessories – does the kayak come with rod holders, carry handles, cup holders, tackle trays? Can paddles or PFDs be chucked into the package?
Transport – how are you going to get your kayak to the water? Roof rack? Trailer?
Kayak Fishing Essentials – Equipment You'll Need to Get Started
Now you've picked a suitable fishing kayak, it's time to get kitted out with the other equipment you'll need for kayak fishing. I realise that not everybody has plenty of readies available, so I've indicated what items are essential, and which you can do without.
Some of the items add a lot of functionality to your yak and enhance your fishing experience, but you enjoy kayak fishing just as much without them.
I advise not to get too carried away with accessories or modifications until you've been out a few times and get a feel for what would make your excursions easier.
Paddle (essential) – A basic fishing kayak paddle with an aluminium shaft and plastic blades will do the job in the beginning. You can spend hundreds of dollars on paddles that are lighter and much easier to use, but it's not worth upgrading until you decide what you want.
One piece of equipment I do suggest you purchase is a paddle leash. Your yak may have paddle stays, but it's easy to knock an unsecured paddle overboard when you have a fish on.
PFD (essential) – Some anglers will only wear their PFD (Personal Flotation Device) in waters above their head or strong currents. However, I recommend you wear it anytime you're in your yak, no matter the water conditions or how experienced a paddler you are.
Vests can offer functionality as well as safety, with multiple pockets to store frequently used items. Store a whistle in one of the compartments as a whistle blast can be heard from great distances, giving you piece of mind when you're just starting out.
Fishing Rod (essential) – If you're an inexperienced angler, call into your local tackle shop who'll be able to offer advice on what rod, reel, and line is best suited for the species you'll be fishing.
Although it's not essential, I would also advise purchasing something to land the fish such as a net or fish grips.
Tackle Box (essential) – A well-stocked tackle box will allow you to capitalise on any fishing opportunity. However, it doesn't need to be packed to the brim, and it should be compact enough to fit neatly into a storage compartment or tied down to the deck.
My tackle box is a single tray with multiple compartments that contain lures, extra line, scissors, pliers, pocket scales, weights, and hooks.
Fishing Licence (essential) – The penalty for getting caught fishing without a licence is severe often tallying up to thousands of dollars in some cases. Don't risk it!
Plus, some of the purchase cost of a fishing licence goes into sustaining the fisheries that provide us with endless enjoyment. Play your part and pay for a permit.
Basic Safety Equipment (essential) – Depending on the details of your trip, there's a whole load of safety equipment you may or may not need.
But as the bare bones minimum, I would bring a first aid kit, whistle, and a mobile phone (in a waterproof bag).
Rod Holders (optional) – Your yak may come with flush-mounted rod holders built in. If not, I suggest you add at least one rod holder to secure your rod when paddling.
Fish Finders (optional) – Using GPS and sonar technology, these little beauties paint an accurate picture of what's beneath the surface. Fish finders are definitely optional, and some anglers never use them and instead opt for their "angler's sixth sense".
Filleting Stations (optional) – a bit more working space can make changing lures and filleting fish much easier.
Cool Box (optional) – Can be used to keep drinks and snacks cool, or keep your catch fresh.
Polarised Sunglasses (optional) – Apart from scoring massive style points, polarised lenses help with seeing fish in the water. Good-quality polarised shades are expensive but greatly aid in sight casting.
Kayak Anchors (optional) – Anchors allow you to post up a spot and stop you from drifting. Adding a kayak anchor trolley will enable you to move the anchor from bow to stern along the side of the boat, which makes anchoring and staking out much easier.
Waterproof Bag (optional) – Your dry storage hatch may not be entirely waterproof. Keep your phone, wallet, keys, and any other valuables dry with a waterproof bag.
Electric Motor – I much prefer getting the exercise from paddling than using a motor. However, if you're fishing a massive area, you may wish to get some motorized assistance.
Planning Your First Kayak Fishing Trip
You'll be eager to launch into your first kayak fishing trip, but these things are not to be rushed, and there are a few safety considerations and pre-trip rituals to run through first.
A little planning goes a long way. Successful fishing trips (i.e. catching) is not necessarily about paddling to far-flung destinations or spending hours and hours on the water. Spending some time planning before heading off on you adventure can make up for a lack of time or paddling ability.
Remember; fish smarter, not harder.
Tag Along or Bring a Buddy
If possible, it's best to go out on the water with an experienced kayak fisherman the first couple of times. An old hand can show you the intricacies of casting from seated and standing positions, how to trawl, and can be there in case of any accidents.
If you can't tag along with an experienced angler, the next best solution would be to partner up with a mate and be extra vigilant. Stay close by one another on the water, and let someone know where you're going and when you'll be back.
Do Your Homework
If you're flying solo, you can learn how to kayak fish online, and by the time you're on the water, you'll have a good idea of the basics and techniques to try out.
Your local paddling and fishing stores also have knowledgeable staff, and I've found that they're only too happy to get another yak angler started. They'll be able to provide insider information on popular (and possibly secret) fishing holes, what species are in your area, and what phase of the season they're in.
Anglers also love to share knowledge of successful catches, and you'd be wise to fish for information (pun intended) about where they're catching, what lures they're using, and the exact techniques they're employing.
Check Weather Conditions
You should be checking the weather report of the area you're going paddling to ensure it's safe to go, that you're dressed appropriately, and to keep a lookout for ideal fishing conditions.
Don't be caught out by a fast moving front or storm. And watch out for high winds as they can create waves and an unstable paddling environment.
Rough waters are to be avoided by beginner paddlers, but slightly miserable weather is good for fishing. Overcast, rainy, and mildly windy days are perfect for fishing as it makes fish enter feeding mode, brings them closer to the shore, and also makes your kayak less visible.
Have You Considered Transport?
Transporting you kayak to the water is often an afterthought for new kayak anglers.
The best solution is a roof rack with attachments specifically designed for holding down kayaks. However, you may not want to fork out on a rack, and you can transport your yak using foam noodles and strapping to the roof of your vehicle.
Kayak trailers are available for towing your kayak the short distance to the water.
If you've got a fishing buddy, lifting your yak by the handles at the bow and stern is easily managed, and you can do away with the trailer.
3 Tips for the Beginner Kayak Angler
There are hundreds of kayak fishing tips and tricks you'll learn with time in the game. Everything we've already covered is a little nugget of wisdom. But for new anglers, the following three tips should be remembered.
1. Stick to the Shoreline
A little common sense will tell you that it's not wise to paddle into deep water if you're still a little shaky and uncertain in your yak. Stick to shallow waters that are within swimming distance to the bank or pier for your first few trips.
2. Leash It Down or Lose It
Capsizing is easily done by overzealous, novice kayak anglers.
While it's a pain in the ass getting soaked, it's not the end of the world. That is, unless, you didn't holster down your supplies.
Save yourself from heartache and use the bungee straps and storage compartments to secure any loose items.
3. Bring Spare Clothes
As we've mentioned, capsizing does happen. After you've tipped a few times, you realise that it's no big deal and nothing to get down about.
But what can make you grouchy, is having to sit shivering in wet clothes for the rest of your trip. Bringing a spare set of clothes locked in a dry bag will put a smile back on your face when you reach the shore.
Catching a Fish
Not every trip is going to result in a catch and some trips you won't get as much as a bite. Don't be disheartened if you don't catch your first time. Kayak fishing is great fun even when you come home empty-handed.
However, a lack of action can quickly lead to dissatisfaction for newbies, and if you to increase your odds of catching, I would suggest using live bait.
After you've got a couple of fish under your belt, you can switch to regular ol' lures.
If you want to hold onto those fish that you hook, make sure that your drag isn't set too tight, or you risk snapping your line. Even a feisty four-pound trout can tow your kayak, so you need to allow enough drag so there's enough give not to break the line.
Provided you didn't go completely cheapskate on your rod, your line should be strong enough to handle the tension that a decent size fish creates.
Also, practice conservation fishing and sustain the fisheries by only keeping the fish that you're going to eat. There is just as much fun in catching and releasing.
And when you do release, don't just dump your catch into the water. Give the fish the best chance of survival by passing water through their gills to feed oxygen to the bloodstream.
You also don't need to land every fish. Using a net on some species is detrimental as it removes their outer slime, protection layer.
The fish you do keep can be kept fresh by storing in your cool box or wrapping them in a towel.
Getting Tricky: How to Modify Any Kayak for Fishing
Not everyone has $2,000 to blast on kayak fishing gear. Lucky for you, just about any old, beaten-up kayak or canoe can be kitted out for fishing. Customising your boat does not have to depend on cash and if you use your imagination and DIY skills.
Many common household or construction items can be used in unique ways for kayak fishing mods.
But before you let your creativity run wild, remember the golden rule when adding stuff to your yak:
Achieve maximum functionality without overloading your boat.
Another key to successfully modifying your yak is to make sure that everything you need while on the water is within reaching distance and preferably in front of you.
Most guys that end up going for a swim do so by reaching for something tucked away at the back of their yak.
So with the basics covered, here are some items you may want to consider adding to your yak.
Rod holders – can be fitted to any kayak and make transporting your rod much easier. They can be flush mounted so that the rod handle is nested in the kayak, or adjustable so that you can pivot and set the angle of your rod.
If you're adding an adjustable rod holder, one on the front deck that is easily reached is usually sufficient. If it's placed behind you, you could end up tipping as you reach behind.
It's also much easier to grab a rod that's in front of you if you're trolling and have a fish on. If you get a strike with a rod in a rear rod holder, you risk losing a fish if the line goes slack by the time you reach around.
Padded Seat – Parking your ass on molded plastic for several hours at a time is uncomfortable (even if you've got a lot of cushioning).
The bob-standard seats that come with the kayak aren't much more comfortable, and you may wish to upgrade to a deluxe model in time. Many higher end models also have additional zipped storage on the rear of the seat.
Milk Crates – What the hell's the deal with kayak fishing and milk crates? Well, they're nothing special, and any old box could do. It's just an extra storage compartment for keeping your tackle box, first aid kit, and other little bits and bobs such as insect repellent and sunscreen.
However, milk crates are a good size, and their lattice structure makes them easy to attach to and have multiple uses. For instance; you can make additional rod holders quite easily by cutting a few lengths of PVC pipe and cable tying them to your milk crate.
One thing I like about modding your yak for fishing is that you can go as expensive or as cheap as you want. You are only limited by your creativity and DIY skills. If you are on a budget, check out the cool mods this guy has managed to do:
Conclusion
Wrestling with a fish on your line is exciting no matter if you're on a boat or dry land. However, that excitement is magnified tenfold when a powerful fish is taking your boat for a ride. If you've never tried kayak fishing before, you are truly missing out.
Give it a go. You've got nothing to lose and everything to gain. Fish on!