As an Amazon Associate, we earn from qualifying purchases. This is without any additional costs for the buyer but does support us in maintaining our website.
If you love the outdoors and are looking to rekindle your sense of adventure, then you've probably thought about taking up kayaking. Being the captain of your own ship will allow you to explore anywhere you choose, while also being a great way to get fit, reduce stress, bond with friends, and to just have fun out on the water.
With all the boxes ticked, it's just a matter of picking your first boat, and now the question is: "what kind of kayak should I get?"
To answer that question, we put together this guide to buying a kayak for beginners. We've also rounded up our top kayaks for beginners in 2021, paying careful attention to beginner buying criteria, such as value for money, a sturdy build, stability, and easy maneuverability.
Let's begin by looking at the factors that will influence your buying decision.
Our Recommendation for the Best Kayaks for Beginners
| Product | Weight | Capacity | Length | Price | |
| --- | --- | --- | --- | --- | --- |
| | 37 lbs | 220 lbs | 9′ 1″ | $$$ | |
| | 27 lbs | 220 lbs | 9′ | $ | |
| | 65 lbs | 500 lbs | 10′ | $$$ | |
| | 60 lbs | 500 lbs | 10′ | $$$ | |
| | 47 lbs | 325 lbs | 10′ | $$ | |
| Ocean Kayak Frenzy | 43 lbs | 325 lbs | 9′ | $$$ | |
Scroll down to see full reviews!
Type of Kayak – Where Will You Be Paddling?
There are so many different kinds of kayaks, and we understand the confusion and difficulty in picking one. After all, we were once in your shoes.
To make things a little more confusing, there's not an all-purpose boat that is suitable for all types of kayaking. Kayaking isn't the cheapest hobby to take up either, and buying a kayak that doesn't fit your requirements is a sure way to waste money unnecessarily.
The best way to decide on which kayak is right for you and the type of kayaking that you want to do, is to go on a few different paddling adventures. Book a guided tour or rent a boat from your local outfitter to get a feel for the models, shapes, sizes, and brands you like.
Make a point of talking to local paddlers as well and get their opinions on good boats for the water conditions you'll encounter.
The type of paddling you do, and hence, the type of kayak you buy will also be dictated by the water bodies closest to home. If you live near a beach, you're looking at purchasing a recreational or touring kayak. If you live near rivers and lakes, you may decide on an all-purpose, recreational boat or maybe even a whitewater kayak (if you're the adventurous type).
Here are a few different types of kayaks to get you thinking:
Recreational / Economy
Touring / Sea
Whitewater (further divided into freestyle, river runners, and long boats)
Fishing and diving
Inflatable
Sit-on-top or sit-in models
Tandem (for two or more people)
Once you've decided on the type of kayak that best suits what you want to do, you can then pick the size, style, brand, color and features (carry handles, adjustable footrests, cup holders, storage options) you want.
High Stability and Easy Maneuverability Is What You're After
A boat that stays upright and is easy to paddle is essential for someone still getting comfortable on the water. Generally, the wider the boat, the more stable it will be, and so beginners should stick to wide boats that are 700mm and wider.
That doesn't mean that you have to rule out a slim, touring kayak for your first boat, but it may take a little longer to find your balance.
The length of the boat and hull shape play a big part in how easy it is to maneuver. Longer boats are slower to turn, but track better in a straight line. Shorter boats can change direction more quickly, but can be harder to keep on a straight line.
Ruggedness to Go through the Learning Curve
With this being your first boat, there's a high chance it will end up with its fair share of dings and scrapes, which is totally fine. A bashed-up boat shows you've been out on the water enough times to build those critical paddling skills.
The only time bumps and scratches are a problem, is when they affect functionality. Fortunately, most modern kayaks are made from tough polyethylene, and it would take a severe knock to make a PE kayak unusable.
Kayaks can also be constructed from fiberglass, carbon fiber and other composite materials which make it lighter and faster, but I would suggest sticking with a polyethylene build for your first boat.
Price is Always a Factor
Even if you have the readies, I would advise against going top-end for a starter boat. Pick something low to mid-range that you can learn in, and you're not too bothered about bashing up. You can always sell your old boat when it comes time to upgrade or keep it as a backup or spare boat for friends.
Due to economies of scale, you're not likely to find the best value at your local paddling store. Small stores have larger overheads, and their merchandise is likely to be overpriced compared to the major outlets and online retailers.
I would, therefore, suggest buying online from REI.com or amazon.com to keep costs down. There's also the option of ebay.com or craigslist.com if you don't mind buying a second-hand boat.
What is the Best Kayak for Beginners? Here're Our Top 6
Now you know what features to look out for on a beginner kayak, here're our top picks. We've included a selection of different types of boats for general paddling, whitewater, fishing, and even tandem options.
| Product | Type | Price | Our Rating |
| --- | --- | --- | --- |
| | Flat/White | $$$ | |
| | Inflatable | $ | |
| | Fishing/Tandem | $$$ | |
| | Tandem | $$$ | |
| | Recreational | $$ | |
| Ocean Kayak Frenzy | Recreational | $$$ | |
Scroll down to see full reviews!
In-depth Beginner Kayak Reviews
Dagger Kayaks Zydeco 9.0
The Dagger Zydeco 9.0 is a great kayak for those just starting out on flat-water and for those that want to try their hand at river paddling. It's easy to maneuver, lightweight, and ideal for calm water and faster-moving inlets.
The 36 pound kayak is reported to be Zydeco's easiest to paddle kayak and recent improvements have resulted in "even more maneuverability and faster acceleration than ever before". The long body helps with both stability and speed for any new rider.
As it's a sit-in kayak, you'll take on less water and have a dry, comfortable ride. This kayak can also hold up to 220 pounds, so it will comfortably accommodate you and enough gear for a weekend camping trip.
It comes with side handles and bungee deck rigging for easy transporting and storage. The Zydeco usually retails under $500, representing great value for beginners.
CLICK HERE FOR MORE REVIEWS AND TO CHECK PRICE
Intex Challenger K1 Inflatable Kayak
The Intex K1 Inflatable kayak is a sit-on-top kayak that comes complete with a comfortable seat, plenty of onboard storage, an 84-inch long paddle, hand pump, and an incredibly attractive price tag.
Some paddlers are put off by blow-up boats, but modern inflatable kayaks are extremely durable and safe. The Challenger K1, for example, features thick, puncture resistant vinyl and an airtight double compartment that will retain air even in the event of a leak.
If you don't have the storage space or transport facilities for a hard-shell kayak, then an inflatable is the way to go!
Although some paddlers have used this kayak on the ocean without a problem, the fact that it's inflatable makes it more stable and comfortable on flatwater.
This particular model is well-suited to beginners due to its ease of paddling and affordability. At less than $100, the K1 is perfect for those who just want to get their feet wet (pun intended).
CLICK HERE FOR MORE REVIEWS AND TO CHECK PRICE
Lifetime 10 Foot Sport Fisher Tandem Kayak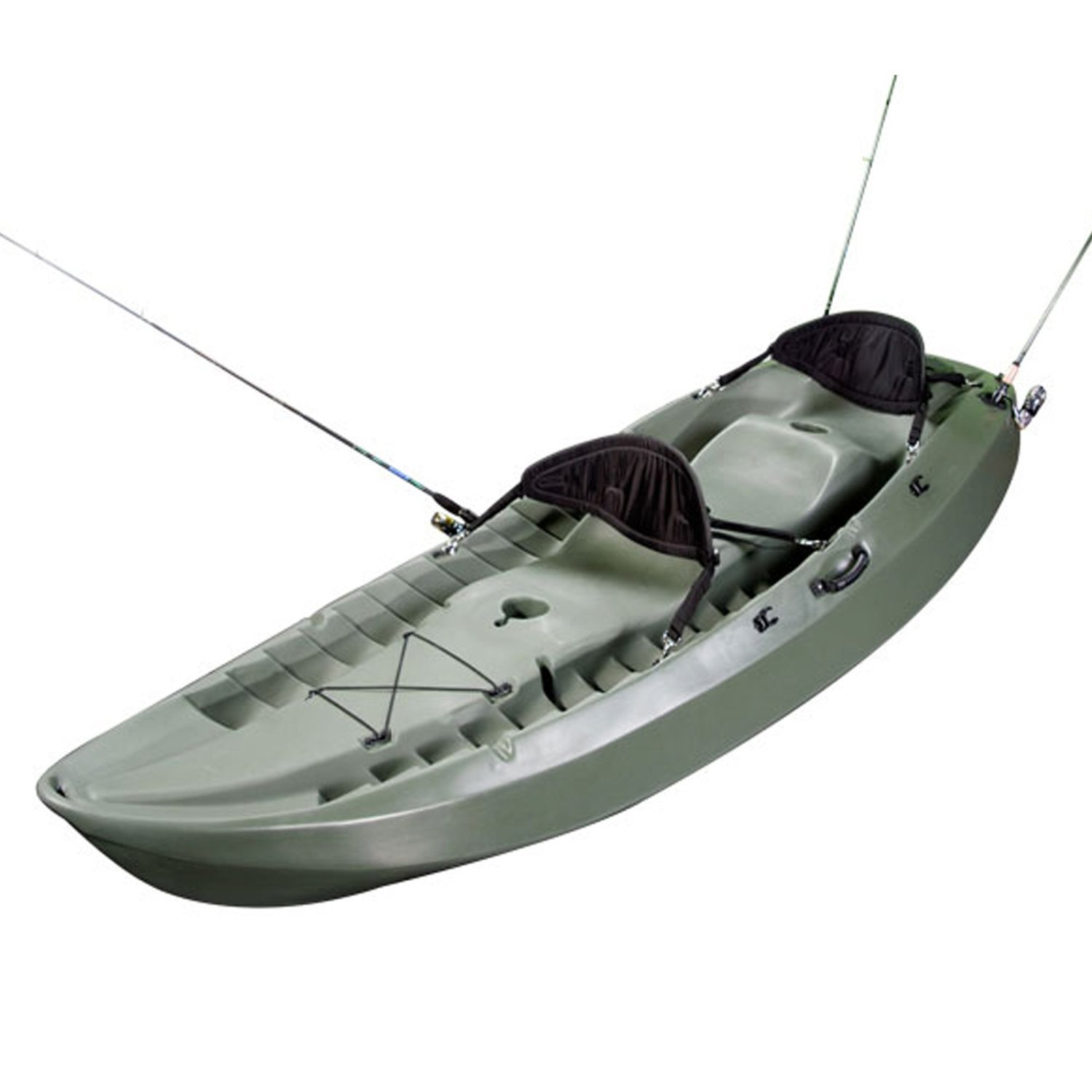 The Lifetime Sport Fisher is a ten-foot fishing yak that is perfect for anglers and novices alike.
This sit-on-top kayak has some nice added features that make life easy such as paddle stays, built-in fishing rod holders, and padded seats. Oh, and it's also designed to seat up to three people and carry a whopping 500 pounds!
The wide tunnel-hull design makes this an extremely well-balanced boat which is suitable for both beginner paddlers and for anglers who want the stability to throw a decent cast. The Sport Fisher is praised for its stability; you can hang your legs off the side and remain stable, you can easily get in and out of the boat, and you can even stand up and fish without it tipping.
The multiple foot rests also make balancing easier and provide leverage when reeling in a catch.
On board storage is provided by three cup holders, bungee cord rigging, and a six-inch storage hatch at the rear. The lightweight polyethylene design is both easy to transport and nimble on the water.
The Lifetime Sport Fisher also comes with two kayak paddles to complete the package.
CLICK HERE FOR MORE REVIEWS AND TO CHECK PRICE
Lifetime 10 Foot Manta Tandem Kayak
The Lifetime Manta Tandem Kayak may be the only kayak you'll ever need. And at under $500, it is a good deal for a boat that will last you, literally, a lifetime.
It is a tandem kayak, but it can fit three people. However, that doesn't mean that you can't use it solo if you're short of mates.
The tunneled hull aids with stability, and there's little chance you'll tip this kayak.
The Lifetime Manta Tandem Kayak comes with two floatable paddles, two padded seats, and foot wells for stability and added comfort.
And it also has tons of storage. There is a large bungee cargo area at the bow, paddle clips for storing paddles when you're not using them, bottle holders to free up your hands, and a couple of extra little pockets for small items.
It has side, front, and back holders so you can carry it easily, and at 60 pounds, it shouldn't be too tough to transport.
CLICK HERE FOR MORE REVIEWS AND TO CHECK PRICE
Old Town Canoes & Kayaks Vapor 10 Recreational Kayak
The Vapor 10 is considered an all-purpose kayak but is best suited for paddling lakes and lazy rivers. It has lots of adaptable features, such as an adjustable padded seat, adjustable foot brace system and thigh pads, which allow you to customize the fit and feel of the kayak to your specific needs.
Old Town Canoes and Kayaks have a reputation for building quality boats. The Vapor 10 is solidly-built and one of Old Town's most popular models, and you can rest assured you'll have this sturdy, polyethylene kayak for a long time.
At 47 lbs, the boat is also very light, and the bow and stern handles make carrying it a breeze.
The sit-in design will keep you dry while the large cockpit rim feels roomy and doesn't leave you feeling wedged into the kayak.
The cup holder and trays up front and the stern storage allow easy access to anything you might need in a hurry. The only downside to the Vapor 10 is the lack of bungee tie downs at the stern storage or a storage well for belongings you need to keep dry and safe.
CLICK HERE FOR MORE REVIEWS AND TO CHECK PRICE
Ocean Kayak Frenzy Sit-On-Top Recreational Kayak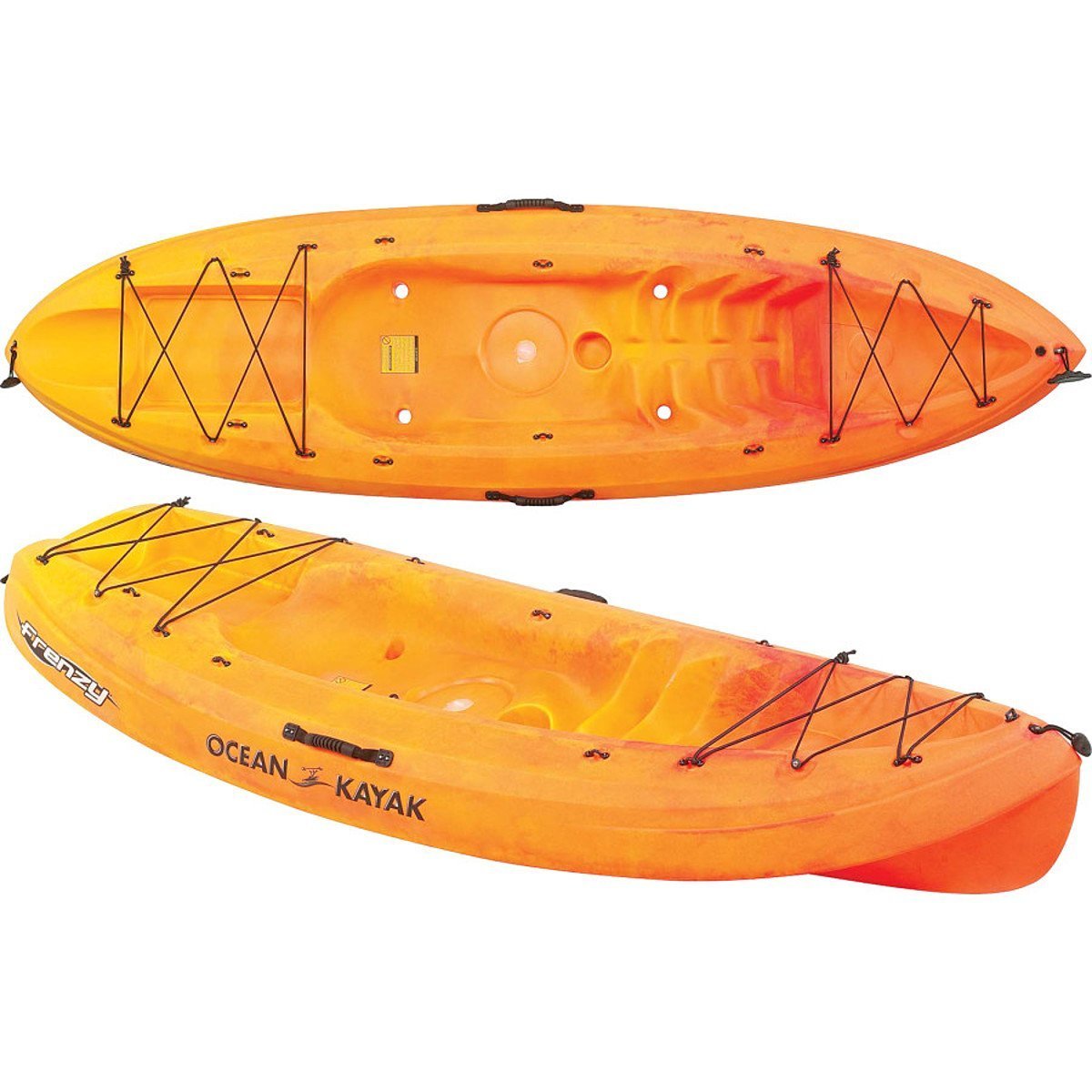 This sit-on-top kayak is perfect for families. The open design makes the Frenzy easy to bail out of and as it's a wide kayak, it's incredibly easy to climb back on. Endless summer fun is to be had by all the family racing kayaks and diving on and off of them.
The molded seat is okay for short trips, but if you're going to be doing any serious paddling, you'll want to attach the padded backrest (included).
There's plenty of storage on board the Frenzy with both bow and stern bungee trays. However, there's no dry storage well, but this is less of an issue as it's not really the type of kayak for long day excursions where you'll want to take your phone.
Weighing only 43 pounds and being an easily-transportable nine foot, the Frenzy is a piece of cake to load into the back of a pickup or on to a roof rack.
High responsiveness and high stability make this a perfect kayak for newbies. Overall, this is a fun sit-on kayak that is ideal for warm weather paddling.