As an Amazon Associate, we earn from qualifying purchases. This is without any additional costs for the buyer but does support us in maintaining our website.
SUP Yoga, yoga on a standup paddleboard, is getting enormously popular and no wonder why! If you have landed here, it's because you either love SUP yoga or interested to start… are we right? Have you been practicing on just any old paddleboard? Then did you discover they actually make yoga SUPs now?
It's no wonder they're being made, SUP yoga has taken off. You can see celebrities in the glossy mags at your corner store chucking a downward dog on their weekend SUP outings. Then you don't need to look far (unless you live far from the water) to find someone who's started teaching SUP Yoga classes.
| Advanced Elements Lotus YSUP | Ten Toes Yogi | Isle Airtech | Zray YG6 |
| --- | --- | --- | --- |
| | | | |
| Best Yoga SUP!!! | Stable Yoga & Cruiser SUP | More All-Around SUP | Full board EVA deck pad |
| | | | |
It's an amazing total body workout, it's fun and you can cool off when you build up a sweat! Just don't try headstands after – the water running down you will surely end up in your eyes and you'll only fall off again. Not that we know from experience or anything….
So now, you want to know about these Yoga SUPs right?
What Makes Yoga SUPs Different From Other Paddleboards?
Stability! They are wider than the average SUP and a rectangle shape for full stability throughout the whole board. These SUPs below are all between 32"-36" wide. It's favorable to have 6" thickness for buoyancy and keeping dry too.
Comfort! Most Yoga SUPs have an extended deck pad compared to your general day-to-day use SUPs. You'll be thankful when you come crashing down from your uh… "stable" tree pose.
Performance! There isn't really any. Except being perfect for SUP yoga! They can be paddled around easily for fun or gentle exercise after a yoga session. However, you don't want to be going on a day adventure down a river. You might as well get a camping mattress for the same reason.

 
The SUP Yoga Comparison
Ten Toes Yogi – Yoga SUP
Specs
| | |
| --- | --- |
| Length | 10' |
| Width | 36" |
| Thickness | 6" |
| Max Capacity | 275 lbs |
| Weight | 29 lbs |
Performance and Materials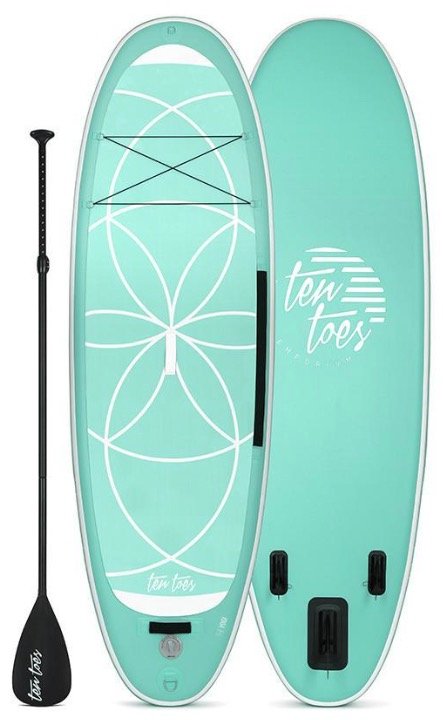 Talk about stability! A whopping 36" wide and 6" of height to give you the best chance at nailing that perfect headstand. While some of the other SUP's on this list opted for the more traditional "mat" shape, Ten Toes provides you with a fat egg more or less.
Now because the Ten Toes Yogi is also much wider than the other Yoga SUPs listed, the stability is about the same, depending on your size that is. The plus side of the eggy shape is that you can still enjoy a casual paddle on the Ten Toes Yogi.
I mean you might as well get the best of both worlds right? Treat yourself! You're worth it!
You won't be flying through the water (you need a cruiser or race board for that) but you'll be doing better than the yogis trying to stay steering in one direction on their camping mattresses.
The Ten Toes Yogi is also a tough SUP. If you are pro and at the "I can shut my eyes and do a sun salute" stage, you may find it comforting knowing that, if you happen to float into some rocks, your SUP will be okay. Its stiffness and durability come from the drop stitch core layered in a military grade PVC.
Features And Accessories
So purchasing the Ten Toes Yogi you'll receive an aluminum paddle and single action pump. Oh and of course your standard repair kit and center fin.
The center fin is purely there to help keep you tracking, while the side fins aren't necessary for flat water as far as performance goes, they provide extra stability – a must!
Your included aluminum paddle is heavy. If you told me you plan to paddle your Yoga SUP around for hours, I'd suggest getting a new paddle. Though I believe you won't be doing that, you should get yourself a big All-Arounder if that were the case.
Now we do suggest an upgrade in pumps – this single action pump will get you out of trouble and it helps keep the overall cost down. That's about it though. With so many pumps on the market at a reasonable price, investing in a high-pressure dual action or even better, an electric pump will be the best thing you've done since your last savasana.
Now you'll be up **** creek if there isn't some included storage on your Yoga SUP. Luckily there is some generous spacing and tie downs on the nose of your Ten Toes Yogi to store your paddle/block/water while you plank the day away.
PROS
Extremely wide deck for stability
Good quality materials for durability
Can be used for cruising lakes too
Lots of storage space to hold your paddle while doing poses
CONS
Paddle is heavy
No carry bag
Pump is single action – takes loads of effort to pump
Isle Airtech Yoga SUP
Specs
| | |
| --- | --- |
| Length | 10'4" |
| Width | 31" |
| Thickness | 6" |
| Max Capacity | 255 lbs |
| Weight | 18.2 lbs |
Performance And Materials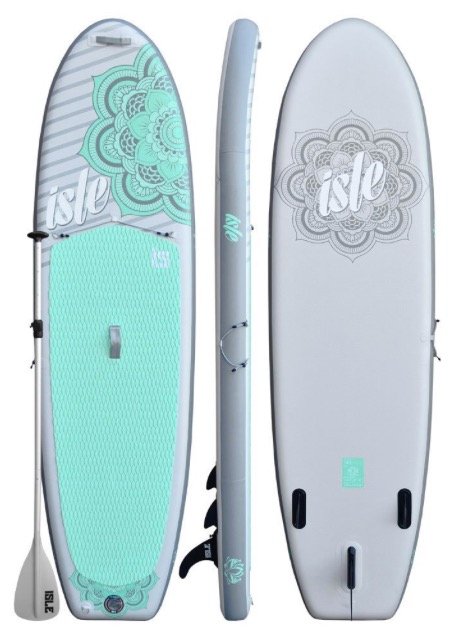 Another fantastic choice for those wanting a little more out of their Yoga SUP.
You could almost call the Isle Airtech SUP an All-Arounder. The only difference in shape between the Isle Airtech Yoga SUP and a generic All-Arounder like you can see in the iRocker range for example, is the tail. The nose is plenty wide, but so is many All-Arounders. The tail, however, tends to be pulled in on All-Arounders whereas it's squared off and almost as wide as the SUP itself on the Isle Airtech.
The plus side? You can go for micro adventures because you SUP will perform to a high enough ability that you won't feel entirely hopeless trying to paddle it.
The downside? It makes this SUP not as stable as some of the others. Which for an experience Yogi this may be exactly what you want! A challenge mixed with the option for versatile use.
The Isle Airtech was originally sold as their "women's board" but after some flack about why this was a woman's board aside from color choice, they deemed it their Yoga SUP, which is perhaps why it isn't as wide as you would expect.
Wondering what Airtech is? It's Isle new lightweight but tough range, it refers to the technology used in the manufacturing. The Airtech Fusion-Lite technology fuses layers together as opposed to the arduous hand gluing system. It sees a 30% drop in SUP weight but keeps the same rigid and durable features. Even the kids could give carrying a go at this entirely manageable 18.2 lbs!
Features And Accessories
Number 1 feature is the rail mounted bungees. You can store your paddle completely out of the way for full utilization of deck space. Would be great to see some bungees on the nose too though! There is only one across the top of the deck pad area.
You'll receive an aluminum paddle much like the one you get with the Ten Toes. Same goes; you'll want to upgrade if you plan on paddling around lots. Especially given you can totally use this Isle SUP as a cruiser as well, an upgrade is a highly encouraged extra purchase.
You also get your pump and carry bag. Again, we recommend upgrading that pump. If you have more than one SUP and go regularly, there is definitely more than enough justification to splurge on an electric pump. We don't mind the bag, it has mesh sides to keep that damp SUP stink away and bungee cords on the front to secure the pump. Its support is reasonable for short distances.
PROS
A great multi-use SUP, suits cruising as well as yoga
Extremely light but still tough – fusion technology
Comes with what you need to get started
Side rails bungee cord to store paddle
CONS
The paddle included is lower quality and sinks
Recommend to upgrade the pump
No deck space storage
Zray YG6 Yoga SUP
Specs
| | |
| --- | --- |
| Length | 11' |
| Width | 32' |
| Thickness | 6' |
| Max Capacity | 286 lbs |
| Weight | 19 lbs |
Performance And Materials
From tip to toe the Eva deck pad stretches. Which is PERFECT for SUP Yoga, because sometimes you have to distribute your weight over more surface area than the general deck pad will cover. It's also particularly nice for a laydown, meditation, and suntan after a yoga session.
The Z-ray YG6 is one of those "mat" like appearance Yoga SUP's we mentioned earlier. So it won't be great for a leisurely paddle after your yoga session. It's square nose and tail do make it way more stable than the Isle Airtech or Ten Toes Yoga. So this may be the choice if you are a beginner SUP Yogi.
However, the materials can do with improvement. You may experience some flex in certain poses (things like headstands with centered weight) and if you are a bigger rider.
Accessories and Features
You'll be set with everything you need. A paddle, pump, and bag. Though everything you need is different to everything you want.
You may want to invest in a different pump before you even try using the one that's supplied. Zray isn't known for its high-quality accessories. If you are planning on using the backpack and paddle for the occasional SUP Yoga session, no worries, if anything more..an upgrade will be necessary.
Though, the paddle does float, unlike the Airtech!
There also isn't anywhere to store your paddle while you are doing some poses, which we find a bit odd. The Zray YG6 is more of a Yoga SUP for its shape and the manufacturing seems to have been done to try jump on the bandwagon of a trend rather than for the efficiency of using this SUP.
Pros
Good "mat" like shape for yoga poses
Full body deck pad
Affordable
Paddle floats
Cons
Low-quality materials – prone to flex
No storage for the paddle
Accessories could be better
Advanced Elements Lotus YSUP AE1062 Yoga SUP
Specs
| | |
| --- | --- |
| Length | 10' |
| Width | 32" |
| Thickness | 6" |
| Max Capacity | 200 lbs |
| Weight | 28 lbs |
Performance And Materials

If you are wanting a SUP for only SUP Yoga and not too concerned about its performance for casual paddles out of your sessions, this will be your pick.
The Isle Airtech and Ten Toes Yogi are great for having a SUP that's that little bit more buoyant for Yoga but still hold the ability for a casual paddle. The Zray YG6 and Advanced Elements Lotus are more focused on providing the best base for Yoga. The Zray is the lower quality of the two and there is hardly a price difference.
You'll find the AE 1062 Lotus SUP perfect being that the majority of its deck has the super comfy foam EVA deck pad and D-rings located at the tail to help store any gear you want to bring. It's super wide and that width stays consistent almost all the way throughout so you can get to practicing that tree pose with the utmost confidence.
With a double layer of PVC and drop stitch core, durability is paired with rigidness. And you guessed it! That again helps with the stability of this SUP, which should be the main point addressed with Yoga SUPs.
Accessories And Features
No handle in the middle of your SUP would normally be something that I'd count as a negative. However, not this case. It's not very comfortable having a handle digging into your back, knees etc. So instead, Advanced Elements has included a carrying strap for the transport of your bag to maximize your comfort while on board.
You'll also receive a single action pump which we suggest upgrading unless you enjoy taking 25% longer to pump your SUP's than if you were to use a dual action. The bag it comes in is good for to and from the car but not something I'd like to be carrying for a long time, especially as this SUP is a little bit on the heavier side.
Love the fact you can remove the side fins of the Advanced Elements Lotus, you will want them for the extra stability but you can always put them in after you've got where you want to go. Being able to use the single fin alone gives the Lotus an extra oomph for performance. Does make the board much easier to roll up too!
PROS
Good quality sturdy and strong materials
Extremely stable for tricky poses
Deck pad covers nearly all of the board
Storage area at the tail
All fins are removable
CONS
The pump is only single action – takes forever
Boards a bit heavy
No paddle included
No tie downs for the D-ring area
The Quick SUP Yoga Comparison
Beginner Yogi SUP Kings and Queens
Go for the Advanced Elements Lotus SUP if you want to only focus on your yoga skills. Now, if you are after advancing some paddle skills too, try the Ten Toes, it's the more stable of the Yoga & Cruiser SUPs.
Seasoned Yogi Kings and Queens
The Isle Airtech will give you a challenge as it's more of an All-Arounder shape, it's entirely possible to still successfully pull off some downward dogs though. It will give you the best performance for a leisurely paddle after also.
Yogi's That Want Both A Cruisey Paddle and Yoga Session
The Ten Toes is the perfect inbetweener. More stable than the Airtech and more streamlined than the Lotus.
Hardcore SUP Yoga For Life Yogis
The Advanced Elements is easily your pick. The Zray just isn't up to standards. You'll need to get a paddle but this might be just as well, you can purchase a paddle you are sure floats and we even suggest getting a floating leash for it, so you can have it completely out of the way.
NAMASTE!
You are ready to go now!
We suggest finding a place where you anchor yourself to do SUP Yoga. If that isn't possible, get any large rock, tie a bunch of rope around it, tie the other end to your board and voila! Anchor!
You want to relax and focus your attention on your practice not to barging into other people in the water. Or floating down the river with your eyes closed at the end of a session and having to paddle up against the current to get home… Not that we were silly enough to ever do that…
Whether you are after a bit of the best of both worlds, being that, you can for a paddle and do some yoga OR you just want to practice your poses… This list is entirely inclusive of terrific options.
Please feel free to comment and ask any questions about anything related to SUP Yoga or SUPs for that matter!