As an Amazon Associate, we earn from qualifying purchases. This is without any additional costs for the buyer but does support us in maintaining our website.
Tower Adventurer vs Tower Xplorer vs Tower iRace
Want to know about one of the most popular iSUP companies on the market? Which board does what?
Tower Paddleboards have been towering the SUP market since 2010. They have appeared in Forbes and can be seen on Shark Tank. They stand behind their product confidently with a 2-year warranty on every SUP that they manufacture.
They have a larger range than what we cover here but these are the most popular. We will have you reading for days otherwise! So here we are to talk about the Tower Adventurer, Xplorer, and iRace.
| Tower Adventurer | Tower Xplorer | Tower iRace |
| --- | --- | --- |
| | | |
| | | |
Now as the SUP's have many similarities, we won't be listing the same things again and again. So this section below reviews the features that are consistent with all the SUP's.
The Materials
Tower Paddle Boards boast being one of the best iSUP manufacturers. They have a long track record of producing boards that are durable to all conditions. They even threw their own SUP's off a two-storey building to prove their point.
They use drop stitching and military grade PVC layers to ensure your board remains ding and scratch free. They also are adamant in making boards with 6" thickness. They state on their website all the issues with flex in 4" boards. They've done their research and make sure their materials are the best for durability but also value.
Accessories
Pump – A lightweight pump is included in the Tower iSUP packages. Weighing in at 2.2 lbs it's hardly an additional weight. As Tower SUPs don't come with a bag many people wrap their SUP's around the pump to store it all together.
There's a built-in pressure gauge but you won't see it registering before 10 PSI. To make things easy the end of the hose hooks into the valve. It helps prevent the hose from slipping off while you are pumping.
Fiberglass Paddle – A fiberglass paddle is included in your SUP package but Tower also do have a carbon fiber paddle you can upgrade. If you are only after something to get started, the fiberglass paddle is extremely good value.
It's lightweight, only 2 lbs so you'll enjoy long paddles with it. You'll also notice the dihedral blade with rubber edging ensures smooth strokes and protection from pushing off objects.
You can adjust this paddle and break it down. The adjustment heights are 65"-85" and the 3 piece paddle, when stored, is only 34" high.
Comfort is a big thing for paddles and we already stated the lightweight feature, but another aspect to be noted is the textured grip on the handle; it helps keep those blisters at bay!
Tower Branded Diamond Deck Pad – iSUPs include deck pads for a few reasons. It helps you grip the board, makes the board comfortable to kneel/sit on and helps distribute weight evenly. The Tower deck pad do all these things but will also last the everyday wear and tear. Some other cheaper pads have a tendency to start coming off after a bit of rough play but not this one!
D-rings – Quality stainless steel D-rings are found on the nose and tail of every board. The tail ones are for your ankle leash, which you will need to purchase separately. On the nose, you can use them for a couple of things. Such as, being towed or tying yourself to an anchor.
The Tower Paddleboard Comparison
Tower Adventurer 9'10"
Specs
| | |
| --- | --- |
| Length | 9'10″ |
| Thickness | 6" |
| Width | 32" |
| Weight | 24 lbs |
| Capacity | 300 lbs |
Big things come in small packages! The Tower Adventurer is one of the smallest iSUPs (9'10") that isn't a juniors board. Though don't let this size put you off as it's extremely rigid and stable. You don't even need to fully inflate it to the 15 PSI, 10 or 11 will do. You'll feel the same as standing on the ground even if you are the bigger rider.
It's great in the waves because it can maneuver with ease and the 6" of thickness still makes it stable. It's a bit sluggish on flat water due to its rounded shape and smaller size slowing it down. Though it's still a perfect beginners choice!
The boards surface area is obviously smaller than the general iSUP, so it's not a surprise there isn't anywhere to store items but it would be handy to have this option! The Tower Adventurer 2 (link) does have the storage as well as being a little longer for extra speed.
As you can see from above, accessories are a little bit limited, but, this does help keep the cost down. So if you are looking for an entry-level board or perhaps a spare that still is fun to paddle, you have yourself a match.
PROS
Easy maneuvering
Stability
Beginner friendly
Surf suitable
CONS
No bag or leash included
Fin installation requires hex screw (easy to lose/forget)
Tower Xplorer
SPECS
| | |
| --- | --- |
| Length | 14' |
| Thickness | 8" |
| Width | 32" |
| Weight | 42 lbs |
| Capacity | 700 lbs |
Do you want to go fast? Do you want a crazy amount of weight capacity? You can take your partner, your dog, and a picnic and still be floating!
Easily the largest and thickest iSUP on the market, the Tower Xplorer is a wonder to behold. It's an incredibly fun SUP for touring, being so easy to paddle and gain speed. 8" thickness is 2" more thickness than the average paddle board and when it comes to stability it definitely helps you keep dry.
Bigger riders can't go wrong here!
The long nose of the Tower Xplorer gets you slicing through the water faster than butter melting in the sun but the 32" width at where you stand makes sure you feel stable. Flip the board over and you'll notice the fin system is a single fin only. It's a dream for tracking on flatwater and amplifying that speed again.
Though a lot of these features we have just mentioned wouldn't normally be beginner friendly, this isn't the case with the Xplorer. Things like narrow bodies and single fin could make the board feel wobbly to a new SUP adventurer. Though again, we point out the extreme length and thickness, you really can't tell you are standing on something inflatable. You wouldn't even find the flex with a microscope.
PROS
Fast, very fast
Stable even though fast, 8" thickness and 14" length
Huge weight capacity
CONS
No storage area
No bag or leash included
Tower iRace
SPECS
| | |
| --- | --- |
| Length | 12'6" |
| Thickness | 6" |
| Width | 30" |
| Weight | 27 lbs |
| Capacity | 400 lbs |

It's a close call between the Tower iRace and the Tower Xplorer as to who's faster. We also need to take into account the riders. Either way, they both will get you from A – B quicker than you can say iSUP.
The shape is slightly more streamlined than the Tower Xplorer and it's a couple of inches thinner at the maximum width. What does that do? Makes it probably a bit faster! But also nowhere near as stable at the Xplorer, which is perfect for those wanting a racer and who have experience but not so great for beginners.
The Tower iRace being a bit smaller makes it easier for smaller riders to transport but also the weight capacity is almost half that of the Xplorer. Mind you, 400 lbs is still a versatile weight capacity to work with. The same as the other iSUP's the 6" thickness and durable materials provide the foundations for a firm stance even in chop. We don't recommend using the iRace in surf conditions, the Tower Adventurer is a way better option.
Again we see the single fin and it is a perfect addition for touring and speed. If you know how to pivot turn the maneuverability is particularly amazing for a board this size too. One tip is to make sure you keep the deck in the shade or splash it with water as the black absorbs all the heat from the sun.
PROS
Rigid, durable materials
High weight capacity for a racer
Streamline design for speed
CONS
No bag or leash
Black deck pad gets hot in the sun
If you use this as a racer, you'll want to upgrade your paddle
The Tower Paddleboards Comparison in a Nutshell
Beginners
The Adventurer is your choice but even better is the Adventurer 2 which we will review in another article. It's a bit more stable and has some improvements like the storage space with bungee cords.
The Xplorer is also a beginners board but smaller riders might find it difficult to maneuver or the size a little intimidating for the first time.
You want something you grow with as a beginner too, so again, the Adventurer offers this. It's shape and size make it an ideal board for having a go in small waves when you start to feel confident to do so.
Intermediates and above
The iRace will be your answer to a good time. It's fast, fun and experienced riders will find it incredibly stable for a racer.
You don't only have to race this board though, it does a brilliant job at being a touring SUP also.
Being as tough and durable as it is, you can shoot off down rivers without a worry of scratches or dents and get into those remote areas you've always wanted to adventure into.
Which One Shall You Choose?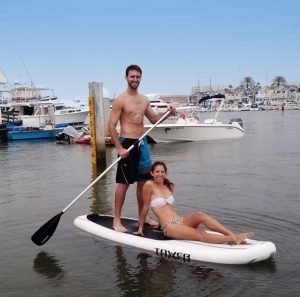 If you had to choose only one, which one would you go?
Are you a first time SUP rider and looking for adventure? Are you more about speed than you are the versatility of performance in different conditions?
You can't go too wrong with the Tower paddleboards range, they stand behind their product and their 2-year warranty proves it. Have a look at their website to see all the claims on toughness and durability, they've got videos and pictures to back their claims up.
While they aren't cross hot on the accessories front (no backpack or leash supplied in the package deals), all the boards themselves are certainly worth their value. You can always upgrade your accessories!