As an Amazon Associate, we earn from qualifying purchases. This is without any additional costs for the buyer but does support us in maintaining our website.
Sea Eagle LB11 vs Sea Eagle NN116 vs Sea Eagle LB126
Here we have the Sea Eagle LongBoard and NeedleNose inflatable SUP range with looking specifically at the difference between the LB 11' and LB 12'6". Sea Eagle also does have a hybrid and fishing SUP, as well as, different sizes in the NeedleNose and LongBoard. We just decided to stick with what's most commonly bought for this standup paddleboard comparison review.
| Sea Eagle LB 11 | Sea Eagle NN 116 | Sea Eagle LB 126 |
| --- | --- | --- |
| | | |
| | | |
SeaEagle has been producing inflatables since 1968! They are possibly one of the oldest in the game and they have the reputation to follow. Well known for their durable and high-quality/performance products, they haven't disappointed with the SUP's in this review either.
As we do with all our comparison reviews (iRocker, Isle, Ten Toes), we've summarised a few qualities that are consistent throughout the Sea Eagle inflatable standup paddleboard range. We figure that's easier for you to read than tiring yourself reading the same thing three times!
The Materials
Sea Eagle uses tough as cement drop stitching with a double layer PVC reinforcement for all their inflatable paddleboards. The drop stitching construction is the reason all of Sea Eagle inflatables are so rigid, lightweight and durable.
Drop stitching refers to thousands of threads that are stitched between the top and bottom of the board, they stretch until the board reaches its full thickness. They become stronger the more they are pulled tight. The result is a board resembling a hard board in how it feels but ten times lighter. Using drop stitching means the board can be inflated to high-pressure levels without popping, in fact, it's impossible to pop your board with the hand pump. The higher the pressure, the tougher the board will feel.
Accessories
Pump
NN (NeedleNose) – Purchasing any of the Sea Eagle NeedleNose models, included is the hand piston pump. It's designed to make your inflation an easy process and to last with its durable aluminum shaft.
Built into the pump is a pressure gauge so you know when you've reached the recommended 15 PSI.
LB (LongBoard) – If your looking at any of the Sea Eagle LongBoard range the pump you'll receive is the dual action SUP pump. They say red cars go faster, well perhaps it's accurate with SUP pumps too.
Dual action pumps mean you can switch between double and single action pumps. Double action means you're inflating on both the up and down strokes, though it's more resistance which is a workout when you start to get towards the 15 PSI mark. Which is why we have a single action, you don't push as much air in but it's easier. Start with the double action and finish off with the single! You can keep an easy eye on the PSI level by looking at the built-in pressure gauge also.
This bright red pump not only makes for effortless inflation it's also durable. A strong aluminum shaft makes your down pumps more effective. Other cheap flimsy pumps wobble when you push down on them, you lose the rewards of your effort when that happens.
Fiberglass Paddle
NN (NeedleNose) & LB (Longboard) – There are multiple packages available and the paddle differs in many of them. However, we're covering the generic "Starter package" so what we've included in this review is the standard fiberglass SUP paddle.
You can, of course, upgrade to a high-quality carbon SUP paddle.
No matter your height, you'll be fine using this paddle, it can be adjusted between 66" – 85" (170cm – 215cm), not sure how to measure the height for you? Check out our standup paddleboard starter article.
Though this fiberglass paddle is so no top of the marker carbon fiber wonder, it's probably more ideal. Only because you don't want to spend the extra money on better gear if you are only starting out.
As far as a beginner to intermediate paddle goes, this lightweight (2.6 lbs) paddle is decent. Breaking down into 3 pieces for travel and storage in your SUP bag for your convenience and also being an efficient paddler.
A big part of how a paddle performs is in the blade. Sea Eagle put some effort into designing their blades which means even beginners will love using them. The blade isn't too big it's slow but not so narrow it's tricky to use. A nice in the middle tear-drop blade with a sufficient angle that you'll be propelled through the water easily – so long as you are using it right!
Eva Deck Pad
As is necessary, all Sea Eagle inflatable SUP's have diamond groove EVA deck pads. There's an overall tick of approval for space the deck pads take up on their boards. All ranges different a little in deck pad size but there's definitely enough comfort and grip on all the boards.
It is an essential part of a board especially if you are bringing someone else or your dog. Another part is that the deck pad helps distribute weight ratio evenly. So the more area it covers, the better stability you'll have.
What is particularly impressive is that all the deck pads extend at the tail to include a kick tail. You can spend more time focusing on where you are going and less fiddling with your feet to get in the right spot for that sweet turn.
The new deck pad on the NeedleNose is also quite the sight to see! It's got some cool color coordination going on that we think makes the board kind of look like a spaceship.
D-rings
Quality stainless steel D-rings are found at the tail for attaching your leash, safety first! But also,4 in the center on all boards. The ones found in the center are for the optional separate purchase of a kayak seat which can be used for fishing or just the leisurely kayak paddle!
Bag
NN (NeedleNose) – Rather than talking about all the same things twice we'll list the features of both the bags that are the same and then the couple of features that are different.
Same Features:
Made out of PVC backed nylon canvas (means it won't rip easily)
Air mesh sides for breathability
Cinching straps inside the bag to secure gear
Drawstring at the top with locking/release mechanism
The Differences:
THE LONGBOARD BAGS
Are a little bigger
Have more padding through the shoulders
Include a waist belt
Their color is grey and the NeedleNose bags are blue!
Both bags get the job done but the LongBoard bags definitely are more comfortable to use.
Centre Fin
NN (NeedleNose) – An interesting shaped center fin is included with the NeedleNose boards. It's pulled back design is to keep unwanted friends at bay. By that, we mean weeds, stick, debris etc. Seeing at the NeedleNose board is designed for touring/cruising it's not unlikely you'll be hanging out in some shallow reedy water.
The shape also helps prevent damage from rocks or sandbanks so you can go much shallower with no worries.
LL (LongBoard) – A 9 ½" center fin is included with the LongBoard series, it's not as sleek as the NeedleNose but it's terrific for tracking. It also is the same fin used in other Sea Eagle products, so if you are setting up a quiver, you'll have backups!
Repair Kit
You'll be hard pressed damaging this board but just in case something happens you'll be equipped with a repair kit. Inside it you have a valve head tool to repair faulty valves and patches. The patches also come with glue and they will patch up any dings or scratches where air may be getting out. You can request patches in all different colors.
The Sea Eagle Standup Paddleboard Comparison
Sea Eagle LB11 – 11' LONGBOARD
Specs
| | |
| --- | --- |
| Length | 11' |
| Thickness | 6" |
| Width | 30" |
| Weight | 25 lbs |
| Capacity | 200 lbs |
If you are wanting versatility but without the sacrifice of stability, you've got yourself a great option with the SeaEagle 11' LongBoard. It's a rigid design throughout and a slight rocker in the nose and tail paired with the kicktail provides awesome maneuverability, making it a viable option for surf.
There's no worry of flex with the 6" thickness, so you'll be floating along gracefully. Though if you are thinking you'll need the extra room or buoyancy, the 12'6 LongBoard can offer that. There has been some sacrifice on speed for stability but if you are looking for versatility, this will always be an issue. Check out the NeedleNose for your speedy needs.
Beginners will find this board easy to use, it's quite like many other all-arounders on the market which are specifically great for newbies. But why? Because it's solid all the way throughout, it allows room for error while you are finding your feet. The paddle included also is designed in a way to get the most out of stroke which not only keeps your going fast but helps you track correctly. It's also popular for SUP yoga workouts, since it's quite long and very stable.
The only room for improvement would be that the side fins were also removable. All -arounders can get the most out of their versatile design if you can also swap the fin setup around. If you are looking for speed check out the NeedleNose below.
PROS
Solid design
The included paddle is reasonable
Easy for beginners
Suits most conditions
CONS
No leash included
Can't remove side fins
Sea Eagle NN116 – NEEDLENOSE 11'6
SPECS
| | |
| --- | --- |
| Length | 11'6 |
| Thickness | 6" |
| Width | 30" |
| Weight | 23 lbs |
| Capacity | 200 lbs |
You won't find another SUP quite like the 11'6 NeedleNose.
Its teardrop shape looks a bit intimidating but it's surprisingly stable. With plenty of width through the standing area, 30", and a reinforced nose paired with 6" thickness, the board holds well. Saying that I'm sure beginners would find it a little tricky at first.
What you get with this piercing bow is speed and lots of it. You also get the ability to cut through waves and chop with ease. Other inflatable boards unless you perfect a technique have a tendency to just throw you off when faced with a breaking wave.
The Sea Eagle NN116 truly is a unique SUP and for the right person and conditions is a high-end performer. You'll have plenty of speed to paddle around on lakes and rivers though depending on who you are / gear, you may find the 12'6 measurably more comfortable for long runs.
You can get into those hard to reach areas with the pre-mentioned (at the top of this article) low angle fin and durable materials. There's no need to worry about being caught in shallow areas and damaging your board. Truly is a versatile board!!
PROS
Unique shape specific to cutting through the water
Fast, very fast
Suitable for all conditions – the most versatile Sea Eagle SUP
Still stable even though narrow through the nose
CONS
No Leash
No option to remove side fins
Sea Eagle LB126 – LONGBOARD 12'6
SPECS
| | |
| --- | --- |
| Length | 12'6" |
| Thickness | 6" |
| Width | 30" |
| Weight | 29 lbs |
| Capacity | 250 lbs |
Coming to say hello is the Sea Eagle 11' LongBoard cousin, the 12'6". It's noticeably larger but it's the same width and thickness, just longer. The extra length in comparison to the 11' gives the board some extra propulsion but it does help to match the length with a bigger rider too.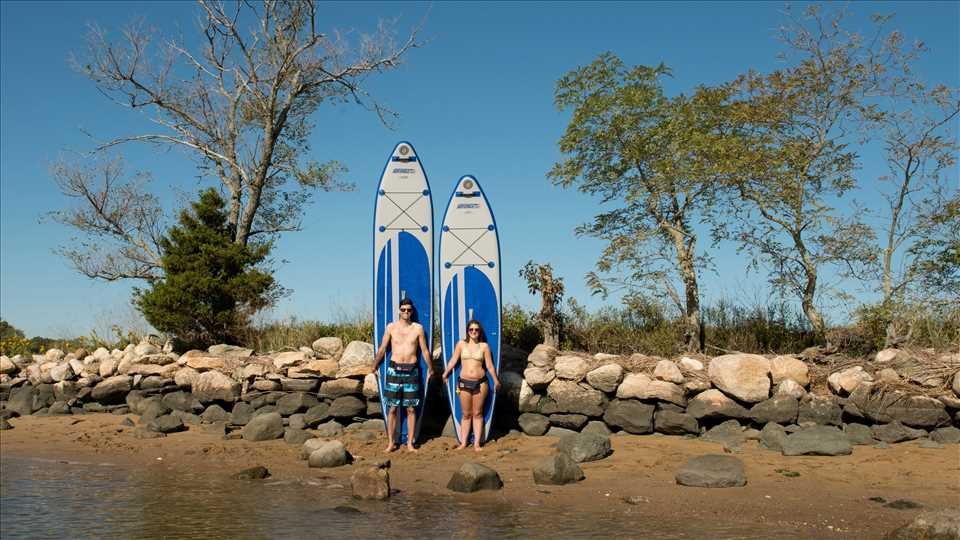 The Sea Eagle LB126 is also better for touring or paddling around on open waters as the size is hard to move efficiently for wave riding. If you decide to go touring you'll be happily cruising no matter your skill level. The tracking is great given the rigid shape and still a reasonable gather at the nose for propulsion.
One thing beginners will also love is the squared off tail, this shape helps provide a balanced feel of stability throughout the whole board. But it's not so wide that is makes it hard to turn! There's also a bit of rocker through the tail so if applying the right amount of pressure you can still make this board turn like a high-performance SUP.
PROS
Easy for all skill levels to use
Stability
Lightweight for how big it is
More propulsion than the 11'
CONS
No Leash
Would be better to be able to use it as a single fin too
Colors scheme is a bit bland (not really a con for some)
The Sea Eagle Comparison in a Nutshell
Beginners
Let's see, it depends what you'll want to be doing as you progress your paddling. They are all great options for beginners really. Even the Sea Eagle NeedleNose! If you do plan on getting into surfing your SUP definitely check out the NeedleNose.
This decision you need to make about which to buy is probably more going to boil down to your size. For the smaller riders, the NeedleNose will be the easiest for you to move and paddle. People closer to the 200 lb mark or those taking extra things on board, perhaps the 12'6 will suit you better!
Intermediates and above
We suggest giving the NeedleNose a run, it's unique shape does make for a fun time out on the water! To find an inflatable that can cut through water the same would be like searching for the pot of gold at the end of the rainbow.
Which One Shall You Choose?
Whether this the first SUP you'll buy or it's just something to add to the quiver, you can't go wrong with Sea Eagle.
The company offers 3-year warranties on all their boards which is a testimony to their quality. They are rigid to the point of being comparable to a hardboard. The NeedleNose especially is a SUP of pure craftsmanship. You'll get the necessary start-up gear and for a reasonable price.
If any of these SUP's really appeal to you but feel the size is wrong, be sure to look at the full range because as we stated earlier, there are a few lengths available for all the boards. SeaEagle also makes quality inflatable kayaks! So you can really get kitted out for your next adventure!
Happy choosing and please feel free to reach out if you have any more questions or queries about these SUPs!