iRocker Cruiser 10'6" SUP
Pros
Super stable design
Quad layer material is strong and very durable
Best backpack with great waist support and padding
Leash color matches deck pad color
Fiberglass paddle included as standard for a lightweight experience
Cons
Not the fastest of inflatable SUPs due to its width but makes up in stability what it loses in speed
As an Amazon Associate, we earn from qualifying purchases. This is without any additional costs for the buyer but does support us in maintaining our website.
You probably have heard about the iRocker Cruiser 10'6″ before, since it's one of the best inflatable paddleboards on the market! And not without a reason!
We have taken a very close look at the brand new 2021 iRocker 10'6 Cruiser inflatable standup paddleboard. iRocker, a relatively new company, is owned and operated by SUP-riders who understand your need for escape and have put together a super high-quality range of boards.
These riders understand the desire to be on the water, they feel its calling, they are actually also real people, not mermaids, and also understand the constraints of time, work, and storage so they have worked hard to define a product which everyone can enjoy, not just the pros.
We have seen many boards over the past few years and can honestly say we have been very impressed by both the company iRocker and its latest addition the 2021 10'6 Cruiser SUP.
Read on to find out what has set this board apart for us.
Specifications
| | |
| --- | --- |
| Length | 10'6" |
| Width | 33" |
| Thickness | 6" |
| Weight Capacity | 400 lbs |
| Weight  | 25 lbs |

Features
Materials
Just like a sandwich we are going to start with the filling. What really makes those slices of bread great is what's inside.
This is exactly the same with an inflatable standup paddleboard, it may look beautiful on the outside but it's what's inside that can make or break any board.
Internally the 10'6 iRocker is built on high-density drop stitch internal core technology, which is exactly what we would expect from any high-end board.
The internal core has been carefully wrapped in a quad-layer military grade PVC this is like taking your sandwich and wrapping it in a tortilla just for extra protection!
This 4 layer PVC has been upgraded from previous years models which only succumbed to a 3 layer material.
The biggest benefit of the extra layer is both extra strength and durability. Being able to take some abuse is part and parcel of an iSUP especially one with beginners in mind. Bumps and scrapes are normal and this extra layer provides protection whilst helping to keep the board super stiff under foot.
So lastly what's holding your creation together? iRocker is using the ingenious Dual Fusion Heat Welded Seams, which have been proven on so many of their other boards. These seams provide maximum strength and allow for the board to be pumped up to maximum pressures for performance and stiffness.
Many people have commented that you can buy cheaper sandwiches elsewhere. But can you really buy one oozing this much quality for cheaper? (We don't think so!)
Deck Pad

The deck pad is one of the main features of any stand up paddleboard. Providing both comfort and traction underfoot without the need for board wax.
The 2021 iRocker Cruiser SUP has worked hard to provide a board with comfort in mind. By extending the deck pad all the way to the tail has opened up a number of opportunities, whether you want to have some fun balancing and pirouetting on the tail with the nose high in the air or you want a more tranquil voyage bringing along a friend or dog for the ride. The extra comfortable Crocodile skin texture will make sure you can take maximum grip from the EVA Deck pad even when wet.
Also new for 2021 are the different colored deck pad options available. Although sadly not interchangeable with older models when purchasing a new board you have 6 different colored deck pads to choose from for a truly customizable experience.
D-rings + Bungee
2021 has really brought with it some great new features another of our favorite is the inclusion of multiple D-rings. This has opened up the possibility of adding a universal kayak seat to the mix. (Possible to purchase separately) So if you get tired or want to sit for a while you can do so with maximum comfort and support. These strong D-rings are welded to the material for security and strength.
Up front, the 6 D-rings are already equipped with a strong elasticated bungee cord. This is the perfect place for storing a dry sack of sandwiches or your flip-flops when out on the water.
On the tail of the iRocker board is another D-Ring. This one is designed to attach your leash to stop your board making a fast getaway.
Fins
Yes, it includes fins! What did you really expect? A board with no fins would be like trying to paddle a large plastic wok pan.
The iRocker Cruiser features a tri fin set up with 2 small rubber fixed fins which can be used independently or with the addition of the larger center fin.
A center fin will allow the board to track and run true whilst the smaller fins will provide you with grip and work well when turning to help you alter course efficiently.
With the user in mind, the center fin now uses a simple flip lock system, whereby the fin can be inserted and locked without the use of tools. This system makes it much easier for storage and rolling up the board.
Inflate/Deflate
The constant inflation and deflation can take considerable time away from your precious escape, that's why the supplied pump has been designed to get you on the water even faster.
The dual action pump actually pumps the board quicker than many other manufacturers standard pumps and combines a built-in pressure gauge to see exactly how far you have got.
Many users say that they can pump up the iRocker Cruiser board in 5-10 minutes and takes approximately 200 pumps. That can be made even easier if you also use a small electric pump. But then again where is the fun in that?!
Once inflated to just 15PSI you are ready to go, the premium construction allows the board to be extremely rigid even at just 15PSI. It's worthwhile to mention that the manufacturers are positive you won't gain anything from further inflation.
To deflate takes approximately 6 seconds and 4 of those seconds are opening the cap!
Simply hold the valve and the air will release, turn to keep it open whilst you roll up the board before safely stowing in its sack.
Remember it is also possible to leave the board inflated, of course only if you have storage and this will save you time on your next outing!
Overall Performance
The iRocker 10'6 Cruiser has to be one of the most stable boards we have tried, and certainly the most stable within iRockers current line up. Aside from their (more expensive) BLACKFIN range.
This makes it great for a variety of users, whether you want to try some SUP yoga or spend some time fishing. The increased stability will give you the confidence to be able to relax.
The extra stability is available due to the boards increased width, boasting an impressive 33" across its center and 22" across its tail makes this the widest board in the lineup.
With many brands purposely narrowing the tail to make a board more agile and nimble. With the Cruiser SUP, iRocker have intentionally made it wides to inspire confidence and stability even for the biggest of users.
The huge carrying capacity of 400 pounds allows the board to be used either solo or tandem with the option of taking a friend or pet out on the water.
For many people, the iRocker Cruiser has proven to be an instant classic, easy to use and yet super portable. The mix has allowed many people to take to the water who never before knew it was possible.
We love the versatility the board offers, from calm waterways and rivers or out in the ocean the possibilities are endless.
Of course with the increased width you will not be winning too many races, but honestly, if you want fame and glory this probably isn't the board for you. This is the 4×4, the SUV of inflatable stand up paddleboards. Designed with the user in mind to go anywhere with confidence where other boards get swamped down in the mud the Cruiser pulls through with confidence.
It is really the perfect addition to any household suitable for all the family to enjoy.
Accessories
Paddle
You can certainly be up the creek without a paddle and the guys at iRocker understand this better than most. That's why they have included a really neat 3-piece breakdown paddle as part of the package.
The paddle is, of course, a key component within standup "Paddling" and to make this even better the latest paddle features a fiberglass shaft, making it both warmer to touch and lighter weight! This makes a difference when out paddling all day. The paddle has also been designed to float! This is a feature not always found in SUP paddles.
Leash
Safety is always a primary concern of any company and with this in mind, the helpful guys and girls at iRocker have decided to include an adjustable SUP board leash with every package.
This means that once attached your board is safely secured to your ankle meaning it won't float away if/when you take a tumble!
One of our favorite features this year is that all leashes are also color coded to match your board, so whichever style you choose you can be sure to be the best dressed on the water.
Pump
The standard pump supplied with every board is an upgraded dual action design. This means you can inflate 25% quicker than other standard pumps. Of course, the pumping of the board is a great warm up, but to make things easier you can purchase or use a 12v electric pump to get things started.
The iRocker pump is also equipped with a simple pressure gauge so you can be sure of the correct optimal pressure every time.
Bag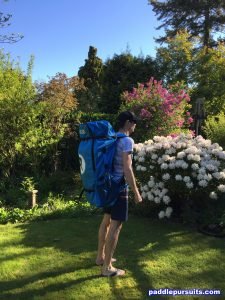 Truly designed by riders who want to ride just about everywhere. The bag included is just as impressive as the board. Providing ample storage space for your board and all of your accessories. This seasons carrying bag has been improved with extra padding and a heavier fabric… The padded shoulder straps and waist belt distribute the weight of the sack easily to make it much easier to carry.
Another good feature is that the zipper can open the bag on both sides so you can easily remove or place the deflated board. The zipper appears to be of good quality as well. Quite handy are the two straps inside the bag to secure the deflated board so it won't move around while transporting to and from the water. Only minor thing is the thickness of the bag itself. It's made of strong material but we've seen stronger appearing bags of other brands.
Whether you are headed to the beach or the airport you will find the backpack the perfect companion to make your board even more portable.
As you know, we've tested and reviewed so many SUPs, but the new iRocker bag is certainly one of the best, if not the best, bag that comes with a total package. It just fits very nicely, strong and wide waist belt to carry the weight, and more than enough space to fit the board, paddle, pump and other small stuff you want to take with you on a great day paddling!
Repair Kit
Even though manufacturers use all of the best materials and fabrics to make your board as durable as possible we all know accidents can happen. That is why included in the bag is a simple repair kit including, two patches, valve wrench and a spare flip lock for the center fin.
This will allow you to get back on the water as soon as possible if you are to have a ding!
Anything Extra?
The Cruiser 10'6 from iRocker is very easy to carry with two large neoprene covered handles one in the center of the board for carrying to the water's edge, and the second on the tail of the board this makes launching and recovering much easier.
The neoprene covering is a nice little extra, providing comfort when carrying the board.
Conclusion
Now you have taken the time to read what we have to say about the iRocker Cruiser 10'6 it is really up to you to make up your mind if it is the best option for you.
We have found that the Cruiser is one of the most stable boards on the market, with the additional tail width giving the board both extra stability and volume. Thus making it the ideal board for the bigger paddler to enjoy.
If you are thinking of something a little quicker than be sure to take a look at the iRocker Sport 11". A narrower sleeker design giving back some of its stability but exchanging it for enhanced speed. At 11" it is only a little longer than the iRocker Cruiser but due to its narrower beam, you will feel less stable.
For those, a little more adventurous who want to navigate rivers or just want some better maneuverability, then the iRocker All-Around range is for you. Allowing you to turn and spin on a dime without compromising the maximum capacity.
For the beginner or intermediate rider, the Cruiser will be a great addition offering versatility and stability to provide confidence to try new things and explore new places. Whether SUP Yoga or a days fishing you won't compromise functionality.
All of the boards in the iRockers range are built to last. Implementing the best materials and manufacturing processes to offer a product that is reliable and inspires confidence.