As an Amazon Associate, we earn from qualifying purchases. This is without any additional costs for the buyer but does support us in maintaining our website.
Don't buy one more kayak without first reading over our Top 8 of inflatable kayaks.
There is something for everyone.
Whether you want a kayak for white water rapids, leisure, fishing, tandem or solo, we've got it covered here in this list.
Whether you are beginner, intermediate or seasoned kayaker – we've got you.
It's overwhelming trying to compare kayaks, especially the inflatable market as it booms, isn't it?
You're only one step away from your quest finishing and then you can thank our kayak specialist who spent hours testing, researching and comparing all these 8 kayaks for you.
Got no time? There's a quick summary of each kayak at the top and the pros and cons at the end of each kayak description.
Furthermore, at the end of this article you'll find a friendly graph that lays out where all these kayaks excel and where they don't.
If you have the time and plan to read ahead, you have our full promise that all information given is from the kayak being tested and multiple user opinions solidifying an opinion.

Advanced Elements Advancedframe Expedition
| | |
| --- | --- |
| Length: | 13' |
| Width: | 32" |
| Max person/capacity: | 1 person, 450lbs |
| Weight: | 42 lbs |
| Materials: | Aluminum frame in hull, drop stitching in the floor, PVC layers for inflating chambers |
| Price range: | $$ |
| Best suited for: | Beginner-Intermediate, long distance paddling, flatwater – light rapids |
Design/Materials
You get the best of both world with the Advanced Elements Advancedframe Expedition. The hybrid design of it meaning it's a foldable as well inflatable kayak. This simply means that there is aluminum frame inside the hull of the boat and the rest of the boat gets it shape by being inflated.
Drop stitch technology has been used for the floor of the kayak, which is the strongest inflatable material available. It makes this kayak exceptionally durable and robust, as well as providing even more stability.
Performance
The added frame, as well as included skeg, makes the Advanced Elements Advancedframe Expedition track way better than the average inflatable kayak, increasing stability and speed. While we are mentioning stability and speed it's worth noting the advantage of the Advanced Elements being a sit-inside kayak. You'll find you have a lot more control and stability compared to a sit-on-top.
Intermediates to advanced kayakers will appreciate the performance and comfort for long distance paddling as well as the quality paddle included. However, it's also a fantastic beginner option because of the boastful tracking abilities. Not recommended for rough rapids though!
Other Features
The setup for this Advanced Elements Advancedframe Expedition is quick and simple, however, the pump isn't included.
If you love your kayaking and going on long paddles, have an appreciation for well thought through designs, the Advanced Elements will leave you positively satisfied.
You'll be in kayak heaven with the comfort with adjustable seat and foot brace and even if you are tall, you'll find you have plenty of room.
It features inflatable spray skirts to keep you dry and warm
Safety is a priority – handles for practical transport as well to grab safely if you fall out, additionally, as the boat is made up of 9 inflatable chambers, in the unlikely event you pop one, you'll make it back to shore safely.
High quality 4 piece paddle included
Remarkably fast setup – 10 mins depending on your familiarity with inflatables
Tie downs for extra storage in arms reach of cockpit
PROS
Superior control/stability
You get high quality design/accessories
Tracking is the best you'll find
Remarkably comfortable for long distance touring – kayak and paddle
Fast setup
CONS
Carry bag has only one strap for carrying – backpack would be better
Weighs heavier than other inflatables – smaller riders may have trouble with portability of the Advanced Elements Advancedframe Expedition
Advanced Elements AE1007-R AdvancedFrame Convertible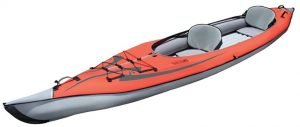 Length:
15'
Width:
32"
Max person/capacity:
2 person, 550 lbs
Weight:
52 lbs
Materials:
Aluminum frame in hull
Choice of: Drop stitching in the floor or backbone spine,
PVC layers for inflating chambers
Price range:
$$$
Best suited for:
Beginner-Advanced, long distance paddling, flatwater – medium rapids (Class 3)
Following the Advanced Elements Advancedframe Expedition from the earlier review is the Advanced Elements Advancedframe Convertible model.
Kayak Design/Materials
Convertible is the sense it can be a solo or tandem person kayak AND can be open or closed deck which can include spray skirts. All these changes take mere seconds. Then there are 3 different adjustable seating positions for the tandem or solo option. The open deck option makes for a much easier entry and exit also!
The Advanced Elements Advancedframe Convertible is made from double layer PVC with an outer layer of 1000 denier polyester. It's rugged and tough, you can drag this kayak through shallow rocky rivers and stay inflated. There is also the same aluminum frames in the bow and stern like the AE Expedition, for improved tracking/speed.
Additionally, you have a choice of including a rigid drop stitch floor for an increase in strength, stability, and control OR robust backbone spine. Both increase strength, durability, and stability. However, the backbone you'll see better results for tracking/speed and the drop stitch you'll get more strength/durability.
Performance 
Ultimately the performance will be dependant on whether you include the spine or not. If you are planning to use the Advanced Elements AE1007-R kayak as a tandem, the spine is a massive bonus because it helps absorb the flexing of extra weight in the kayak and propels that energy into your paddling instead.
The size, width, and space of this kayak makes a supreme long distance paddler, however, thanks to its durability and choice in hull shape, you can handle yourself up to Class 3 rivers (so long as your skill matches it of course!).
Being a 15ft boat it may be a bit heavy and big for solo use continually. However, as a solo, you'll have enormous amounts of space for storage!
The skeg fin increases your tracking and helps stabilize the Advanced Elements Advancedframe Convertible, so again, beginners will find this a dream for a first time kayak. While it doesn't perform as well as a hardshell as far as racing goes, you'll get much the same performance in leisurely paddles, small surf or medium rapids.
Other Features
Once you get the hang of it, takes about 10-15mins to set up. However, no pump is included!
6 Chambers for safety in numbers – In case one leak!
Repair Kit
2 comfortable adjustable seats (No lumbar support like the Expedition though)
Loads of storage space for gear including deck area with bungee cords for security
Optional purchase of a spray skirt to keep dry and warm
PROS
Solo or tandem ability
Reinforced bow and stern for extra stability, tracking, and speed
Choice of drop stitch floor or backbone
Durable materials (Suitable for up to Class 3 rivers)
LOADS of room no matter if you are going solo or tandem
CONS
No accessories – paddle, pump must be purchased separately
Heavy
Bag isn't suitable for long distance transportation
Sea Eagle 370 Pro
| | |
| --- | --- |
| Length: | 12'6" |
| Width: | 33" |
| Max person/capacity: | 1-3 person, 650 lbs |
| Weight: | 32 lbs |
| Materials: | PVC layers, I-beam, High frequency seams |
| Price range: | $$ |
| Best suited for: | Beginner-Intermediate, long distance paddling, flatwater – medium rapids (Class 3) |
Kayak Design/Materials
The Sea Eagle 370 Pro has the same boat as the Sea Eagle 370, just comes with quality accessories at an extremely reasonably extra cost. So when describing this kayaks design, keep in mind, if $$$ are an issue you can look at the Sea Eagle 370 for an identical cheaper option.
We would describe the Sea Eagle 370 Pro as more of a sit-on-top kayak, however, you sit low enough for the option of attaching the inflatable spray skirts. This makes it a great recreational kayak for a leisurely paddle or long distance touring.
You can fit 2 people comfortably but the capacity and room do allow 3 or loads of storage space, however taking a furry friend as opposed to a human or gear is a more favorable option in my opinion!
Sea Eagle also has proved The SE370 safety with an NMMA certification, but if you know anything about materials, you'll feel safe enough once you know about the kayaks manufacturing.
Now you want to know about the manufacturing right?
High-grade PVC hull (Rigid design in the hull means more stability and performance), I-beam floor (Strength for higher pressures which is more stability and less flexing).
Performance
So long as you and your partner can coordinate your paddling well, this kayak will be a dream to paddle. While being a solo driver is always easier, going as a pair is definitely more fun!
As well as being a sit-on-top open deck style, there is enough rigid support in the floor, hull, and stern for relatively easy exits and entries.
Tracking (keeping a direction) is a breeze because of the 2 skegs as well as the rigid design of the hull and floor. Having good tracking also means you can get up speed. Not as fast as a hardshell in most cases but still enough performance to have a good time!
Maneuverability isn't as controlled as some hard shells, as can be expected, but the Sea Eagle 370 Pro is rated for holding its own to up to Class 3 Rivers.
Although this kayak is lightweight (32 lbs) you will find that it doesn't waver much in strong winds either!
Other Features
Takes roughly 5-10 mins to inflate the Sea Eagle 370 kayak, 3 chambers for safety and a quicker inflation than the pre-mentioned Advanced Elements kayaks.
Self-bailing drain valve in case you tip or take water on in the surf
Inflatable spray skirts
Foot pump
2 Inflatable seats – Deluxe version for improved lumbar support
Repair kit
Carry bag (not such a positive one though)
2 Aluminum 4 pieces 7'10" paddles
Bow and stern grab line for safety/anchoring or towing
PROS
All included accessories – paddles, pump, repair kit
Inflatable spray skirts
Durable and rigid
Self-bailing drain valve
Seats have improved back support
CONS
The carry bag is a one shoulder strap – backpack is more favorable
Foot pump is standard quality – it's done quicker with a dual action or electric pump
Little tricky to maneuver with more than 1 person paddling (This also could be the paddles)
Sea Eagle Razorlite 393rl Pro
| | |
| --- | --- |
| Length: | 12'9" |
| Width: | 28" |
| Max person/capacity: | 1 person, 500 lbs |
| Weight: | 28 lbs |
| Materials: | Military grade drop stitch, 3 and 4 layered PVC |
| Price range: | $$ |
| Best suited for: | Intermediate – Advanced, racing or long distance paddling, flatwater to light chop |
Kayak Design/Materials
Is that you speedy gonzalez? The Sea Eagle Razorlite 393rl Pro kayak is made for solo adventures where you'll want to build momentum and speed. Super slick design. Razor sharp nose point, slim body and tapered sidewalls that provide extra lift and propel you through the water effortlessly. Sea Eagle claims the speed of up to 6 mph can be achieved in this speedboat.
Next contributing factor to the speed is the rigidness of the Sea Eagle Razorlite 393rl once fully inflated. This rigid structure is achieved with the dense drop stitch materials used for the WHOLE kayak (3" for the floor and 4" for side walls) This is one of the first inflatables where drop stitching has been used entirely. It provides the sturdiest inflate you can get as well as being so durable that it makes this kayak comparable to hard shells.
Performance
All of the mentioned rigidness and streamline design means tracking is a breeze, then you add the removable skeg and you've got a boat that's a dream to paddle. However, keeping in mind that the Sea Eagle Razorlite 393rl Pro is narrow and tapered, 28", this kayak won't feel stable to a beginner. It's best suited for intermediates – advanced riders.
It's worthwhile to point out the included paddle in the performance as your stroke will make a difference in a kayak like this. The spoon shape of the paddle and lightweight fiberglass frame makes effortless entries with maximum pull and minimum drag.
You'll zip through water paddling this bad boy. Contributing factors for speed include hard plastic bow and stern and the double concave base at bow and stern. You'll be slicing through the water like a newly sharpened kitchen knife.
You won't want to be getting in the rapids in this kayak, as you'll find stability an issue but if you are out on open water, rivers or ocean, you'll love the performance, even in small chop and windy conditions.
Other Features
The accessories with the Razorlite Pro are amazing and high quality. Unlike the other Sea Eagle and Advanced Elements models here, the backpack is comfortable and has enough support to carry everything fair distances. The seat and footrest are supportive and comfortable for long distances. The paddle easy, lightweight, deconstructible and shaped for extra propulsion.
Inflation of the Sea Eagle Razorlite 393rl Pro is simple and takes only about 7 mins with 3 chambers, one-way valves and a recommendation of 10 PSI.
Removable/adjustable inflatable foot strap
Molded foam backrest on the seat
Hand pump with pressure reader
8' 4 piece Fiberglass paddle OR upgrade to the Pro Carbon series for the sensational carbon fiber paddle
NMMA approved
180 risk-free trial and3-yearr warranty promise
Backpack
Front and rear spray skirts
Repair kit
PROS
Pronounced streamline design
Fast
Comfortable
Top quality accessories
Lightweight and portable
Controlled paddling (not for beginners)
CONS
Multiple users have had issues getting the kayak back in the bag easily
No tie down storage
Only suitable for open water and not rapids
Aquaglide Columbia XP Two
| | |
| --- | --- |
| Length: | 13' |
| Width: | 36" |
| Max person/capacity: | 2 person, 400 lbs |
| Weight: | 40 lbs |
| Materials: | Duratex 600 denier polyester, X-Beam flooring |
| Price range: | $$ |
| Best suited for: | Beginner, long distance tandem paddling, flat/open water |
Kayak Design/Materials
The Aquaglide Columbia XP Two tandem 13ft kayak is a brilliant touring kayak for long distances. You'll find the streamline design of a narrow piercing bow and stern propels you through the water effortlessly, while you feel as stable as a log with it's 36" width.
You'll have a choice of open or closed deck depending on whether ease of entry/exits or being protected from weather is a priority.
The cockpit space is big enough for 2 adults plus a small amount of gear (or a dog!). If taking a pooch there's no worry about scratches and leaks as the whole boat is made from Duratex 600 denier polyester, a durable and weather resistant material commonly used for inflatables of all sorts.
Not only is it tough it also makes for a rigid structure and doubled with the Columbia Two X-beam for flooring, stability will not be an issue.
Performance
So how is paddling the Aquaglide Columbia Two XP?
The seats are removable so you can go solo, however it's recommended to be used as a tandem kayak. So you're performance will depend on how well you and your paddling partner can co-ordinate! If you are pro at getting a rhythm together you'll find this boat a sturdy vessel with a good tracking system.
There's a removable tracking fin as well as the rigid streamline shape for performance on long distance paddling.
Turning is controlled and precise but does take a little time given the width of the Aquaglide Columbia XP Two kayak. When battling small chop or winds, you'll have no trouble either.
This is a great entry level kayak for fishing too, there's paddle holders and rod holders, and lots of stability, whilst it isn't as pro as Sevylor Colorado, you probably won't want to spend that kind of money when you just starting out.
Other Features
There isn't many accessories included but this does help keep the cost down. The Aquaglide Columbia XP Two is a great entry level kayak for a couple starting out.
Rear and front spray guards
Bungee deck lacing on front and back spray guards for storage
Fishing rod holders and beverage holders on seats
Adjustable foot rests
Velcro paddle holders
Bag with padded straps for comfortable exploration
Repair Kit
2 seats with storage and reasonable back support
PROS
Price
Tailored specifically for long distance
Storage
Portable
CONS
No paddle or pump included
Hard to control solo
Seats could be have more support
Turning is limited
Sevylor Coleman Colorado 2-Person Fishing Kayak
| | |
| --- | --- |
| Length: | 10'9" |
| Width: | 32" |
| Max person/capacity: | 2 person, 470 lbs |
| Weight: | 40 lbs |
| Materials: | 1000D tarpaulin bottom and 840D nylon cover, 18-gauge PVC |
| Price range: | $ |
| Best suited for: | Beginner – Intermediate, fishing, open water – light chop, small waves |
Kayak Design/Materials
Fisherman/woman rejoice in the perfect kayak for your next fishing adventure. Most of the attention has been given to details in accessories for fishing.
The overall design of the Sevylor Coleman Colorado 2-Person fishing kayak provides stability but it's not the fastest or quick turning inflatable about out there. However stability, durability and comfort should be comfort when it comes to fishing kayaks.
Durability is no question with 1000D tarpaulin bottom and 840D nylon cover, you'll be able to scrape over shallow waters or bounce of rocks to get your favourite fishing hole in confidence.
There's plenty of space in the 32" wide kayak for extra gear or the taller kayaker, however seats also can be removed to make this a solo ride and you'll still find it very stable and easy to maneuver.
Performance
Performance of the Sevylor Coleman Colorado kayak relies on its ability to perform as a fishing kayak. If you were to use this kayak as a performance kayak for say racing or white waters, you'd probably end up disappointed.
So keeping that in mind, the performance is superb. Safety is a concern when out fishing, as you can tend to be in remote areas, so having multiple air chambers is a huge plus in case of an unlikely puncture. A NMMA rating also gives a tick of approval for safety.
Additionally, there is Berkley Quick Set Rod holders and secure paddle holders to enhance your day being able to be hands free fish safely.
While the propulsion of the Sevylor Coleman Colorado 2-Person fishing kayak isn't amazing it does have trolling motor fittings, so you can get from hole to hole quicker.
Stability is vital for fishing as if you get catch of the day you may find yourself rocking about reeling that big fish in. Aside from the rigid materials and flooring, the 32" width will leave you feeling balanced.
Other Features
Carry handles on bow and stern
Mesh storage pockets near seats
D-rings along the whole kayak to attach more gear
1 Year Warranty
Carry bag and pressure gauge
Easy inflation with double threaded boston valve
PROS
Excellent accessories for fishing
Comfortable seats for long periods of sitting
Extra space for more gear
Rod and paddle holders
Motor fittings
Robust/durable
CONS
A bit slow to paddle
Heavy
No paddles or pump included
The fishing pole holder sometimes gets in the way with your paddling
Sevylor Quikpak K5
| | |
| --- | --- |
| Length: | 10'9" |
| Width: | 32" |
| Max person/capacity: | 2 person, 470 lbs |
| Weight: | 28 lbs |
| Materials: | 1000D tarpaulin bottom and 840D nylon cover, 24-gauge PVC |
| Price range: | $ |
| Best suited for: | Beginner – Intermediate, river touring, open water – Class 2 (Class 3 if you are experienced perhaps) |
Kayak Design/Materials
Solo adventurers get excited! Do you like to get out on the water by yourself and paddle effortlessly with nothing but the sounds or running water and a few birds? Do you also like to feel safe while doing it? Look no further 🙂
The bright orange (for easy to be seen safety) solo sit-inside Sevylor Quikpak K5 kayak is a perfect choice for those who are wanting to tour down rivers. 3 chambers of inflation add to the safety, so that in the unlikely event one was damaged you would still be able to make it home without sinking.
There's enough space with secure bungee lines and additional D-rings for extra gear and the supportive backpack turned seat makes this one of the most ergonomic inflatables on the market.
Being solo you also want ease of transport. Aside from the pre-mentioned backpack, there is carry handles on stern and bow as well it only weighing 28.6 pounds.
A bit tougher than the previously mentioned Fishing Sevylor, the Sevylor Quikpak K5 has 24-gauge PVC construction, intentionally built stronger for river use. It features the same tarpaulin bottom and polyester cover.
Performance
A reasonable balance of size to turning abilities gives you the 10' L X 36" W Sevylor Quikpak K5 kayak that has enough length for propulsion but without losing out maneuverability. You'll find it no problem to twist and turn in whitewater situations and feel totally stable doing so.
Though the common perception that sit-insides can be tricky to clamber back into in the case of a capsize, the buoyancy of the Quikpak says otherwise.
You'll find there is a fixed rudder at the rear and skeg in the middle of the kayak, this helps with tracking and stability.
You won't be a speedy gonzalez like the SE razorlite but you will be dry, stable, warm and able to tackle up to Class 2 rivers with ease. So if long river tours that include rough waters is your thing, this is an ideal option.
Beginners with some kayaking knowledge will love the Sevylor Quikpak K5 to start getting comfortable in heavier rivers!
Other Features
5 minutes of prep will see you ready and being the envy of all the hard shell kayakers that are also eager to start their expedition. With such a quick setup you'll definitely be able to beat the crowd and find that solitude you crave.
Includes paddle
NMMA certified
Double lock valves to prevent air loss
Dual action pump for fast inflation
1 year warrant
Spray guards to keep dry and warm
PROS
Practical lightweight design
Stable
Considerable maneuverability
Sit-in style for keeping dry
Extremely portable and easy assemble – especially for solo kayakers
Durable
CONS
Included paddle is bad quality – highly suggest buying or using a different one
Bit pricey for lack of accessories
No front storage area – lacks ease of access with spray skirt
Intex Explorer K2
| | |
| --- | --- |
| Length: | 10'2" |
| Width: | 36" |
| Max person/capacity: | 2 person, 350 lbs |
| Weight: | 30 lbs |
| Materials: | 30-gauge vinyl over 1200 denier nylon, inflatable I-Beam in floor |
| Price range: | $ |
| Best suited for: | Beginner, Recreational/Leisure, open water, small rapids |
Kayak Design/Materials
Another consideration for an ideal tandem inflatable kayak. While you can go solo and won't struggle too much, the Intex Explorer K2 kayak definitely has been designed to best suit two passengers.
It's the more spacious of all the inflatable tandem kayaks we've mentioned here and also one of the toughest. The AE Expedition with hybrid design is impossible to beat as far as structure goes, however, this Intex Explorer K2 we rate only just beneath it.
Materials used are a 30-gauge vinyl over 1200 denier nylon with inflatable I-beams in the floor. Considerably more robust than the Sevylors.
Intended area of use as suggested by the manufacturers is recreational paddling on lakes and mild rivers but thanks to it being tougher than the rest, many report going into rapids and turbulent rivers with much success.
Performance
As mentioned earlier, performance is best seen in mild rivers / lakes but it can handle it's own in heavier waters. There's a drain hole to avoid sinking and it can handle hitting objects and been thrown around like trash.
Admittedly, if you are serious kayaker you won't find this to perform as well as your usual white water choice.
If you are starting to test out the stronger waters and want something that's stable, buoyant and VERY affordable, then look no further. The Intex Explorer K2 kayak is also considered a lightweight craft at only 30 lbs, which makes your life much easier when moving the kayak about in and out of the water.
You'll feel in control of your steering with the removable skeg and if you so happen to take a wrong turn and bump out of your boat, there's grab lines for safety located on the bow and stern.
Other Features
Bright yellow design to be easily spotted for safety
2 X 4-piece 84" Aluminium paddles
Carry bag
Inflatable/adjustable seats
Hand pump
Grab lines
PROS
Very good price for mid-range quality kayak
Lightweight
All inclusive package – kayak, paddles, pump, repair kit
Safety rates by U.S Coast Guards
CONS 
The carry bag could be a backpack instead
Paddles cannot be adjusted – 84" is uncomfortable for smaller riders
The black floor has a tendency to heat up which can cause disfiguration leading to tears
Not the fastest recreational kayak
Only holds up to 350lbs
SUMMARY
So, found your new kayak?
We know it's a lot of information to take in – especially if you are a beginner!
So here's that graph we promised at the very beginning of this journey. It'll help sway your decision making into the kayak that's perfect for you.