As an Amazon Associate, we earn from qualifying purchases. This is without any additional costs for the buyer but does support us in maintaining our website.
Isle Airtech Explorer vs Isle Airtech Yoga vs Isle Airtech Touring vs Isle Airtech All Around
Do you want to explore, adventure, exercise or do it all?
We're here to review the ISLE Surf & SUP company range of inflatable SUP's. On the menu today we've got the Isle 11' Airtech Explorer, 10'4″ Airtech Yoga, 12'6″ Airtech Touring and the 10′ Airtech All-Around.
Isle Surf and SUP company started back in 2004. Two fresh college graduates decided the corporate world wasn't for them and started their own surf/sup business in their parents unit. Now they are widely recognized for their quality productions as well as exemplary customer service.
| | | |
| --- | --- | --- |
| Isle All Around | Isle Explorer | Isle Touring |
| | | |
| | | |
They put their passion and drive into their business and it shows. Even if there was some issue, every inflatable SUP is backed with a 1 Year Warranty.
Even though we are reviewing different boards, some features are the same across all boards. To save rewriting and rereading the same things, let's look at those features now.
The Materials
Recently, Isle Surf and SUP upgraded the materials for their inflatable standup paddleboards. You'll find most inflatables will use drop stitching and then reinforce it with one to three layers of PVC.
What you see across the Isle Airtech range is a new type of construction. The technology is referred to as Airtech Fusion-Lite construction.
What is the difference?
Rather than hand gluing layers, a machine covers the core with a specific type of seal and bonding layer. Once that's happened a machine-laminated, higher density PVC layer is added.
What are the benefits?
There's a 30% drop in the board's weight automatically. It also helps eradicate human error in the manufacturing process. As a result, your board is tougher but lighter. Not to mention there's an increase in consistency of manufacturing.
Accessories
Pump – All 4 boards come with a high-pressure pump. It has a built-in pressure reading gauge that may confuse you at first. It may appear broken for a moment but the pressure gauge doesn't start registering until around 10 PSI. You shouldn't notice it in your pack either weighing in at a lightweight 2.2 lbs.
Aluminium Paddle – The paddle you'll receive is an adjustable, 3 piece aluminum paddle. It breaks down to fit easily into the also included backpack. Perfect for travel! It can be adjusted to match your height too from 65" to 86". It's a little on the heavy side for paddles but as beginners extra to get started, it's perfect. If you are looking to upgrade Isle also make a superb carbon shaft paddle that will put that extra propulsion in your strokes.
The Bag – A heavy duty nylon backpack protects your board once rolled up and stored. It's got plenty of padding throughout the shoulders and back to keep you comfortable and supported. Additionally, there are ample amounts of room to store your SUP, pump, and paddle.
Eva Deck Pad – To help keep you on the board and out of the water, each board is equipped with a diamond grooved EVA deck pad. Some deck pads cover more of the boards surface than others but we'll mention that in the individual reviews. You'll also find the deck on your Isle SUPs extraordinarily comfortable for kneeling or doing any sports like yoga.
The Isle Inflatable Standup Paddleboards Comparison
Isle All Around 10′
Specs
| | |
| --- | --- |
| Length | 10' |
| Thickness | 6" |
| Width | 31" |
| Weight | 17.5 lbs |
| Capacity | 240 lbs |
Are you looking to do it all? The Isle All Around is a great blow up board for those who like to dabble in all sorts of paddling. The 10' length is perfect to tackle small waves and the thruster fin setup beautifully complements it. Easy to turn and paddle around, ideal for beginners. It's no wonder it's one of their best selling boards!
The center fin is removable for storage purposes. But the main feature is the size and shape of the fin, it makes up for the side fins not being removable. That is because it keeps your tracking and helps propel you along where the side fins may produce a slight drag.
On the deck, there's some tie downs and storage area along with handles for easy transporting. Deck features, especially the ability to store are what bring value to a board.
Stability shouldn't be an issue for most riders, 31" width is plenty enough and paired with a huge deck pad for extra grip. 240 lbs weight capacity should leave you feeling more than supported and safe from the water's edge. Though if you are needing something bigger you can look below at the Touring or Explorer! You just won't have the same versatility in conditions.
PROS
Stability
Beginner friendly
Includes the necessary starting accessories
Easy fin installation
CONS
Only one color available
Paddle is heavy
You can get more accessories for same price range in other SUP packages
Isle Explorer 11′
SPECS
| | |
| --- | --- |
| Length | 11' |
| Thickness | 6" |
| Width | 32" |
| Weight | 19.1 lbs |
| Capacity | 275 lbs |
Are you the explorer? Do you like to go on long paddles? Do you need plenty of storage space to take all necessary gear for long adventures?
The Isle 11' Explorer iSUP is a dream to paddle but also extremely practical. With 14 D-rings and two tie-down sections, you'll not be screaming for space to store any extra gear. Another important factor to consider when looking at SUPs that you want to explore with is the comfort.
Will you get tired quickly moving around? Does your SUP have speed and can it keep its momentum? With the Explorer, you get all of this. The 12'6 Touring is obviously going to get you going even further but it's a little narrower so not as friendly for the beginners.
The Isle Explorer boasts a shape that is very close to the Isle All Around, however, we think it's titled is earned because of the extra storage space. With the complemented backpack too, you'll truly be set for an adventure. We just recommend upgrading the paddle as it's a bit heavy for long day use.
PROS
Lots of storage for storing gear on long outings
Stability and comfort for long trips
Tracks easily
CONS
Paddle is slightly heavy especially for long day use
Slower than the Isle Touring iSUP
Isle Touring 12'6″
SPECS
| | |
| --- | --- |
| Length | 12'6" |
| Thickness | 6" |
| Width | 30" |
| Weight | 20.5 lbs |
| Capacity | 275 lbs |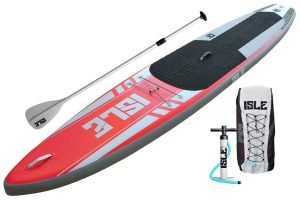 If you are into touring, you want to be seeing the sights. So you want to get there easily and with some speed right? While if you are a beginner you may not find the Isle 12'6″ Touring iSUP is easy to paddle, speed is definitely its plus side.
The narrow body completed with the pointed nose and gathered tail, slices this board through the water effortlessly. Again we state this is a fantastic inflatable board for those wanting to go far, however, beginners beware you'll be a little rickety if this is your first SUP. We suggest checking out the above Isle 11' Explorer if you are after some speed but still want to match stability.
Something we wonder about is why there isn't the increased storage area on the Touring like the Explorer as the Touring for most would be a preferred option for long hauls.
Again much like the Explorer we suggest upgrading your paddle. The aluminum paddle included is great to start out with but you'll soon feel it's lower quality when you've been on the water for a couple of hours.
Having a 3 fin setup adds stability for beginners which is great. But, being able to have the option to go to a single fin for more speed and tracking when touring would be the best!
PROS
Fast
Comfortable to paddle for long distances
Maneuvers the best
Lightweight touring board
CONS
Low-quality paddle
Better to have all fins removable
Not beginner friendly
10'4 Yoga SUP
| | |
| --- | --- |
| Length | 10'4 |
| Thickness | 6" |
| Width | 31" |
| Weight | 18.2 lbs |
| Capacity | 255 lbs |
While it isn't possible to compare a Yoga SUP to these other boards in terms of performance we thought we'd give it a quick review anyway. We will be doing a comparison article of Yoga SUPs that goes further in depth.
While some of Yoga SUP's really aren't good for anything but doing some stretches on this particular one is also enjoyable for a leisurely paddle.
It's super stable throughout the whole board with a wide nose and tail, which makes a slow paddler but that's not what you buy a Yoga SUP for! The plus side is that it does move around better than some of the boards so you can still enjoy a short paddle after your yoga session!
Another cool feature is the bungee cord on the side of the board, so you can store your paddle completely out of the way.
The Isle Paddleboards Comparison in a Nutshell
Beginners
If you are still starting out we recommend purchasing the Isle 11' Explorer. It's extremely stable and easy to get going. You won't be paddling in circles or will you be dragging behind everyone. The downside is that it's not going to perform as well in various conditions like the Isle All Around.
The All-Around also will be a perfect beginners board and it is the most popular board they sell. So depends if you want to get out in various conditions or if you'll be happy sticking to flatwater!
Intermediates and above
The Isle 12'6 Touring board is a super fun ride! It's fast, lightweight and handles impressively. Like we mentioned you'll definitely want to upgrade your paddle though.
If you are wanting to be able to get a little versatile with where you go, check out the All-Rounder. It's going to have better performance outside of flatwater paddling.
Which One Shall You Choose?
You've got the list and you've got the pros and cons. You've even got a recommendation. All that's left is for you to choose!
Isle Surf and Sup are renowned for their customer service, always bending over backward to help you out, especially if something is wrong with your purchase. Sometimes the warehouse that sends products to customers makes mistakes. The guys are Isle Surf and SUP will do their best to sort you out!
Not only do they have the 1-year warranty we already mentioned but also a risk-free 30 days return policy. Have to trust a company that stands behind their products that much.
Wherever you want to go or whatever you want to do, one of these SUP's will surely satisfy your wants. We can't wait to hear which one you end up with! Leave a comment below!