As an Amazon Associate, we earn from qualifying purchases. This is without any additional costs for the buyer but does support us in maintaining our website.
If you're looking for a SUP board that you can quickly transport and take anywhere you go, then an inflatable paddle board (a.k.a iSUP) might be just what you're looking for. Inflatables easily fit into a rucksack, inflate in next to no time, and provide all of the fun of a hard paddle board without the hassle.
A day trip with regular paddle boards requires a lot of planning. Transporting fiberglass paddleboards can be a pain in the ass, especially when you're paddling with a group, and you need a large roof rack or multiple vehicles to accommodate everyone.
This makes going down the route of choosing an inflatable paddle board even more appealing.
Let's have a look at why you might choose an inflatable SUP board over a traditional board, and check out some of the best inflatable paddle boards of 2018.
Best Inflatable SUP 2018 Models
| Product | Weight | Capacity | Dimensions | Price | Our Rating |
| --- | --- | --- | --- | --- | --- |
| | 28 lbs | 350 lbs | 10′ x 30″ x 6″ | $$ | |
| | 29 lbs | 275 lbs | 10′ x 30″ x 6″ | $$ | |
| | 26 lbs | 350 lbs | 10'4″ x 32″ x 6″ | $$$ | |
| | 20.5 lbs | 275 lbs | 12'6″ x 31″ x 6″ | $$$ | |
| | 29 lbs | 250 lbs | 10′ x 30" x 6.5" | $$$ | |
| | | | | | |
Best Inflatable SUP Boards of 2018
iRocker 10' Sport Paddle Board
One of our most favorite iSUPs on the market: the iRocker 10′ Sport inflatable paddle board. Maybe it's even our top favorite iSUP! Mainly because the iRocker 10′ Sport is also one of the sturdiest iSUPs on the market. The triple layer, drop stitched PVC is tough as nails and will withstand collisions with rocks, tree branches, the shore, or whatever else you happen to bump into on your travels.
Military grade PVC is capable of heavy usage with no signs of wear and tear.
The board is wide enough that beginners will find it easy to use, and has good buoyancy to keep riders high and dry.
The grooved, diamond patterned grip is non-slip and provides a firm footing giving ultimate control of the board even when wet. At the same time, it's also very comfortable and almost massages the underside of your feet.
The iRocker 10′ SUP is able to hold a massive 350 lbs! That's enough capacity to have the kids on board, pack supplies for a day trip, or even use the board for tandem paddling.​
The iRocker comes supplied with a dual action high-pressure hand pump, adjustable aluminium paddle, removable centre fin, repair kit, and backpack for making travelling that much easier.
Key specs
Capacity: 350 lbs
Weight: 28 lbs
10′ x 30″ x 6″
Comes supplied with pump, travel bag, removable fin, repair kit, and Aluminium 3 piece paddle
Pros
Supports heavier loads – 350 pound capacity makes it an ideal tandem inflatable SUP
Made from military grade PVC providing durability for life long enjoyment
2 years manufacturer warranty
Cons
CLICK HERE FOR MORE REVIEWS AND TO CHECK PRICE
Ten Toes iSUP: the WEEKENDER
The Ten Toes inflatable paddle board is a fine choice for beginners and active families. It's versatile, easy to balance, and specially designed for all round use.
Fully inflated, the board measures in at 10' x 30" x 6″, which is a size most paddlers will be able to operate with ease.
The rounded shape of the hull and wide body gives this board superb stability. Combining the well-balanced board with the padded grip produces a stable surface that is perfect yoga. The surface is comfortable, yet textured enough that you get enough traction to perform postures without slipping.
The Ten Toes Weekender iSUP is made from the same ultra-tough PVC that inflatable kayaks are made from​ and is virtually indestructible.
This board comes supplied with a robust, adjustable aluminium paddle (weighing just 2 lbs), removable fins, pump, and repair kit.
Having the perfect balance between quality and value for money, we think ​you'd be hard-pressed to find a better beginner iSUP.
Key specs
Capacity: 275 lbs (recommended 250 lbs)
Weight: 29 lbs
10' x 30" x 6″
Comes with adjustable aluminium paddle, pump, 3 removable fins, and puncture repair kit
Pros
Very stable – ideal for beginners and families
Strong and durable – utilizes tightly woven military grade PVC
Wide surface and padding area makes it ideal for yoga
Small storage size: 11" x 36"
1 year warranty
Available in 5 colors: Red/Black, Blue, Green, Grey, Turquoise
Cons
Travel bag sold separately
CLICK HERE FOR MORE REVIEWS AND TO CHECK PRICE
Tower Paddle Boards Adventurer 2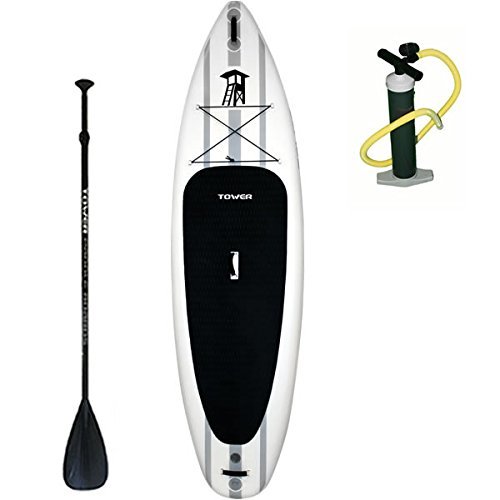 If you're looking for the optimal blend of strength and functionality, then our recommendation is the Adventurer 2 from Tower Paddle Boards.
The first Adventurer was already a highly regarded board with hundreds of satisfied customers. However, the second coming has added a bungee cord for kit storage and carry handles at the front and back of the board for easy transport.
The Adventurer 2 only weighs 26 lbs but it is able to carry a whopping 350 lbs, making it an ideal tandem paddle board.
Thanks to the use of military grade PVC in its construction, this board can withstand the toughest of punishment. You could bomb down whitewater rapids, bang it into a rock, or even drive over it with a car without so much as putting a dent in it.
It's incredibly sturdy and feels very much like a traditional epoxy board. It will accommodate paddlers of all skill levels, but it's fine balance makes it newbie friendly.
The webbed netting at the front of the board makes it easy to strap down gear if you fancy touring or even fishing or diving from the board.
The padding on the board is comfortable and "grippy", which is great for longer journeys and also for supporting your elbows and knees if you practice yoga.
We also love that the Tower board comes with a lightweight, three-piece fiberglass paddle, removable fins, repair kit and a pump. The travel bag can be bought separately from Tower Paddle Boards.
Key specs
Capacity: 350 lbs
Weight: 26 lbs
10'4″ x 32″ x 6″
Supplied with lightweight fiberglass paddle, pump, and removable fins
Pros
Military grade PVC – suitable for heavy usage
Wide board is very stable and easy for beginners to balance
Huge weight capacity allows 2-3 riders
2 years manufacturer warranty
Cons
No travel bag included in the package
Only one color choice. Somewhat basic design
CLICK HERE FOR MORE REVIEWS AND TO CHECK PRICE
ISLE 12'6 Touring Inflatable Stand Up Paddle Board
The ISLE Airtech 12'6" Touring inflatable SUP board is as the name suggests, ideal for touring and adventure.
The board is longer and narrower than all-purpose boards as it's designed for ocean paddling and open stretches of water. It's notably faster, and you'll be able to cover much more ground with this board than a beginner board on an all day paddling session. It also helps that the board only weighs 20.5 pounds, so there is less resistance and every stroke really propels you forward.
The ISLE touring board is fantastic for long distances and for those that want a board that is streamlined for speed. However,​ beginners will find the larger board harder to turn and may want to stick to a shorter board.
It comes with 14 individual D-Rings, 2 bungee systems, and can support 275 lbs, so you'll have enough storage and capacity to pack what you need for longer journeys.
As with all ISLE boards, the quality is outstanding. Highly durable military grade PVC will ensure this board is fit for duty for many years to come.
The package comes complete with a carry backpack, pump, 3 removable fins, and a repair kit.
Key specs
Capacity: 275 lbs
Weight: 20.5 lbs
12'6″ x 31″ x 6″
Pump, repair kit, travel bag, Aluminimum 3-piece paddle, and removable fins all come as part of the package
Pros
Military grade PVC is suitable for heavy and frequent usage
Additional D-rings and bungee tie downs for kit storage
Lightweight and fast on open water
2 years manufacturer warranty
Cons
Longer board may be harder to turn for beginners
CLICK HERE FOR MORE REVIEWS AND TO CHECK PRICE
XTERRA 10′ Inflatable Stand Up Paddle Board
XTERRA make some of the best paddle boards on the market, and this ten-foot board is THE DADDY of all inflatables. Its construction features extremely buoyant materials to keep you floating high, and the use of rugged reinforcement on all sides of the board gives this board ultimate durability.
The 6.5" thick board really does feel and ride like a hard board. It's solid, and you can tell that this board is incredibly well-made.
The non-slip, padded grip ensures the board remains comfortable on your feet and easy to manoeuvre. It's very stable, and can be used for all purposes. With a 250 pounds capacity, you could even carry a couple of riders if you wish.
XTERRA make great paddle boards, and you will be extremely impressed with the craftsmanship and performance of this board. However, for a premium board, you're going to have to pay a premium price, and XTERRA boards are a little more expensive than others.
Key specs
Capacity: 250 lbs
Weight: 29 lbs
10′ x 30" x 6.5"
Comes with a travel bag, dry bag, pump with gauge, repair kit, 3 fins, and paddle
Pros
​Bungee cord, carry handle, securing eyelets add versatility and functionality
Double reinforced, drop stitch military grade PVC won't warp, tear, or scratch easily
Three removable fins for extra control in the water
1 year warranty on material and workmanship defects, 5 year warranty for repairs
Cons
Only one colour choice
More expensive than other boards
CLICK HERE FOR MORE REVIEWS AND TO CHECK PRICE
Are Inflatable Paddle Boards Any Good?
In my humble opinion, I think inflatable paddle boards are fantastic! They're tough (much tougher than you'd think), and made to withstand a lot whole of punishment.
So if you're afraid of getting a puncture or damaging the fabric against the rocks, then worry not! Inflatable paddle boards are designed to withstand a whole lot of rough and tumble.
iSUPs are also incredibly easy to use. Simply take the board out of the rucksack, roll out onto the ground, and inflate. In around 5 minutes, you'll have a solid SUP board ready to hit the water.
As for standing on the board, it's just like a traditional board. It's stiff and strong underfoot, rigid when turning, and gives you a secure feeling that you can handle the toughest waves.
You can do everything with an inflatable SUP that you can do with a regular board. The latest craze is doing stretching, pilates, and yoga on the board, but they can be used in a whole manner of ways…
Things You Can Do With a Paddleboard
Racing
Touring
Yoga, pilates and stretching
Fishing
Family fun: picnics on the beach and paddleboard games on the water
SUP lessons could even be used as a fun team bonding exercise between co-workers, or as a fun activity that gets the whole family moving.
SUPs can also be used as windbreakers if caught on a windy beach, and they double up as a stretcher in times of emergencies. How's that for resourcefulness?
Inflatable SUPs are more than capable of doing all of these activities.
Inflatable Boards vs Regular Boards
The quality and feel of inflatable paddleboards have come on leaps and bounds in recent years. Sophisticated engineering and the use of cutting-edge materials ensure that the performance, durability, and style of inflatable boards closely resemble those of a standard board.
Once inflated, it's difficult to tell the difference between an inflatable SUP board and a regular board. And once underfoot, they both perform similarly to each other.
So, what are the real world differences?
Solid Boards Are More Durable
Unfortunately, inflatable paddle boards don't have the same longevity as their hard-bodied cousins. That said, they're still built to withstand heavy use, and you won't sink if you knock or scrape your board.
Now I'm not saying that you should go ramming your nose head first into the sharpest rock you can find to test its durability, but you wouldn't do that with a traditional board anyway!
Easy to Repair
This is where inflatable boards take the lead. A collision with a regular board is likely to incur damage that's either un-repairable, or it's going to take up a lot of your time, effort, and possibly cash, to fix. You'd probably be cheaper making your own SUP board than repairing the damage.
Repairing your inflatable SUP board is as simple as cleaning the area, applying adhesive, and sealing with the supplied patches. Easy as 1, 2, 3!
Transporting is Easy Peasy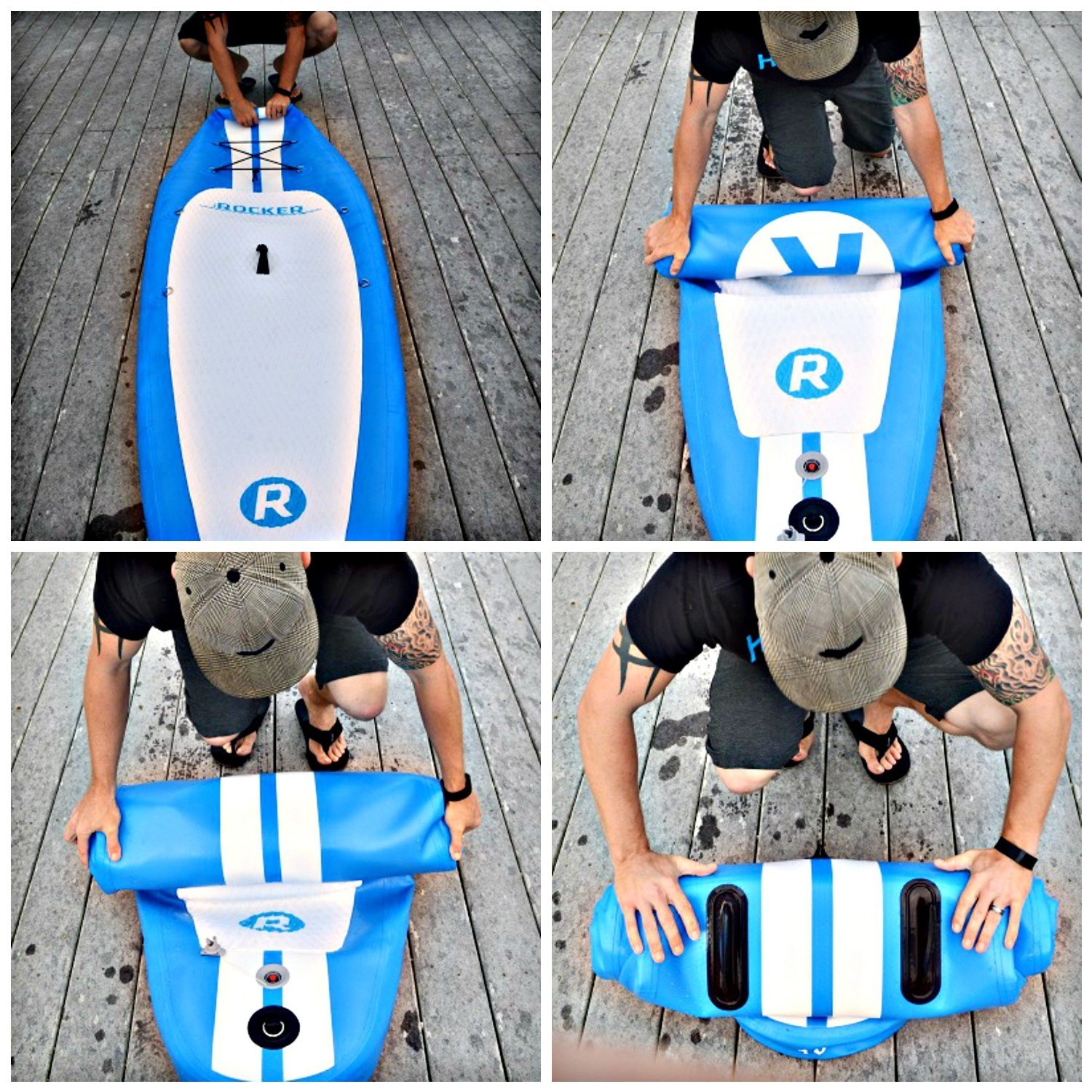 The ease of transportation is what often sways paddlers in favour of inflatable models.
Traditional boards take up a lot of space and require additional planning if you're thinking of going on a trip. Inflatable SUPs make all these problems disappear.
So, are inflatable boards better than traditional boards? Let's look at the pros and cons of inflatables to find out.
Pros and Cons of Inflatable SUPs
What has been discussed already has provided a positive insight on why an iSUP could be a much better option for you than a standard board.
Some of the benefits of an inflatable paddle board are easy to see, such as inflatable SUPs being super easy to pack away and transport. They don't require large, cumbersome trailers to carry boards, or huge storage spaces to hold your equipment.
But did you know that inflatables are also tough and durable and that their lightweight construction makes them highly manoeuvrable and fast on open waters?
To help you decide if a blow-up board is right for you, we've covered all the inflatable paddle board pros and cons below.
Let's start with the pros.
Pros of Inflatable SUPs
Performance: Strong and rigid once inflated. Similar performance to regular paddleboards.
Lightweight: Fast on open waters and easy to carry.
Solid Build: Made to withstand tough usage. Robust materials and strongly interwoven fabrics will last for years.
Easy to transport: Quick to pack away and easy to take anywhere you go.
Quick to inflate: Only takes a few minutes to inflate or deflate. Some self-inflate.
Easy to repair: Repair kits are easy to use.
Cons of Inflatable SUPs
Durability: Not as strong as solid SUPs. Can become damaged or ripped (but easily repaired)
Air loss: May lose air over time if not inflated or the seals are damaged (this is very rare as the seals are made to last and remain airtight).
Inflating: Pumping up the SUP board takes time and effort
Are Inflatable SUPs Durable? – The Question on Everyone's Lips
Still unsure about inflatable paddle boards? Worried about robustness?
Without a doubt, the biggest concern most people have when it comes to inflatable SUPs is durability.
But let me tell you; there is nothing to worry about in terms of robustness. Put to bed visions of sinking paddleboards and fears of drowning.
Specially designed woven fabric will stand up to the Sun's harsh UV rays without breaking down, and can take a beating from waves, piers, rocks, or anything else you smash head-on into. And if you do happen to nick your board, it's a piece of cake to repair.
If you properly care for your board (see below video), an inflatable SUP will last a lifetime.​
Inflatable Paddle Board Repair
Have you ever fixed a bike tyre? Whether you have or you haven't, it's a cinch to do and only takes a few minutes.
Patching an inflatable SUP is just as easy and you shouldn't fret if you get a small puncture. Most inflatable boards come supplied with puncture repair kits and board repair should only take a couple of hours.
The process is as simple as cleaning the area where the tear is, applying a small amount of adhesive, cutting a patch to suit, and placing the patch over the glue. Then all you have to do is wait for it to dry and hey presto, your board is good as new and ready to go!
Here's a video that demonstrates just how easy inflatable SUP board repair is.
Inflatable SUP Buying Guide
So, what should you look out for when choosing an inflatable paddle board?
A lot of your choice will boil down to personal preference, but your decision shouldn't be ruled by the colour or style of the board!
Just like when choosing a regular paddle board, the inflatable SUP board that best suits you is determined by what activities you plan on doing. Will it be leisure, sports, for fun and games, or perhaps a spot of yoga?
Once you've decided on a main activity, you can start further research of that particular style of board. Don't sweat it if you're unsure; many all-purpose boards are good enough for all activities.
Start digging around the internet for inflatable SUP reviews and take note of which brands keep popping up. Take note of the top performers and brands that provide piece of mind by including a warranty.
It's a good idea to visit a paddle shop for further research and for board and paddle sizing if you have one in your town. But be warned; it's almost always cheaper to make your purchase online.
You'll want to check the capacity of the board to ensure it can comfortably hold your weight and any equipment you plan on taking on your trips. Similarly, check the dimensions to see if it's a good match for your paddling style.
Shorter boards are easy to turn, whereas longer boards are designed for speed and distance and require a larger turning circle.
The width of the board will determine the balance and stability in the water. The wider the board, the more stable it will be. The narrower the board, the more confident you must be at balancing yourself.
SUP boards that come with removable fins will give you more options. If you're using the board for games, removing the fins will give you more control and allow you to turn the board quickly and easily. If you're racing or paddling long distances, keeping the fins on will aid in tracking (keeping you in a straight line).
One more thing; remember to check what extras are included in the package for a fair comparison. Some brands provide a SUP paddle, hand pump, carry bag, and a puncture repair kit as standard.
The Final Word on Inflatable SUP Boards
To recap on the many benefits of inflatable paddle boards: transporting and storing inflatable SUP boards is effortless. They're light and easy to carry with you anywhere in the world. They're built much tougher than you would think and made to last. And if you do get a puncture, repairing the board is incredibly easy.
Inflatable models can do everything that a hard paddle board can do. There are inflatable SUPs designed for racing, yoga, adventure touring, fishing, surfing, and games and family fun.
Most boards come with all the accessories you need, such as a pump, carry bag, repair kit, and paddle. All you need is water, and you're all set to have a great time!
If you're thinking of buying a paddle board, the versatility and ease of transport of inflatable models are winning features that could make them the best choice for you.
We hope our guide has helped you find the best inflatable stand up paddle board for your needs. If you have any questions, please post them in the comments below. And if you know of an iSUP that deserves to be on this list or that you would like us to review, please share.