As an Amazon Associate, we earn from qualifying purchases. This is without any additional costs for the buyer but does support us in maintaining our website.
Our world is large, vast, and 70% water. It is likely that anywhere you go in the world, you'll find good kayaking at some point. However, if kayaking is high on your priority list when you're seeking a place to take a vacation, we've done a lot of the work for you already.
We have put together a list of ten of the best places to sea kayak in the world. And we've shaken things up a bit by diversifying your options so there is something for everyone.
There is a lot of consensus on what the top places are to sea kayak, but we've thrown a few locations in here that may surprise you!
Galápagos National Park
Simply put, the Galápagos National Park is one of the most miraculous places left on earth. It was a haven for Charles Darwin, who was able to do large amounts of research in the ecologically rich islands which helped to develop his theory of evolution.
The only challenging thing about attempting to kayak the Galápagos National Park is the regulations surrounding the park. Since it has such a rich eco-system, they have a lot of laws and rules to protect it. Regardless, if you have a chance to kayak the island, we highly recommend it. It's almost certain that you will not experience anything else like it.
 Fijian Islands
Fiji is one of the most gorgeous places in the South Pacific. It's home to clear waters and a few hundred islands. The thousands of little nooks and crannies that the islands house make Fiji great to explore by kayak.
You'll also be able to try snorkeling, diving, surfing, sailing, and lots of other recreational activities in and out of the water that will reignite your childhood sense of wonder. This tropical paradise will take your breath away. If you have the chance to paddle the islands, we highly recommend it!
Isle of Man
Isle of Man has a surprisingly large kayaking community. Well, I shouldn't be all that surprised as the island has a beautiful coastline that is best seen by boat. There are tons of things to do and to experience, including guided kayak tours of the coastline, paddle boarding, gorge scrambling, coasteering, scuba diving, sailing, and archery. You can find out more about the activities on offer here.
Simply put, Isle of Man is one of the most beautiful islands in the UK. It's low-key, easy to get to by ferry, and you'll likely find several like-minded people there. We hope you'll get a chance to check it out!
Grand Teton National Park, Wyoming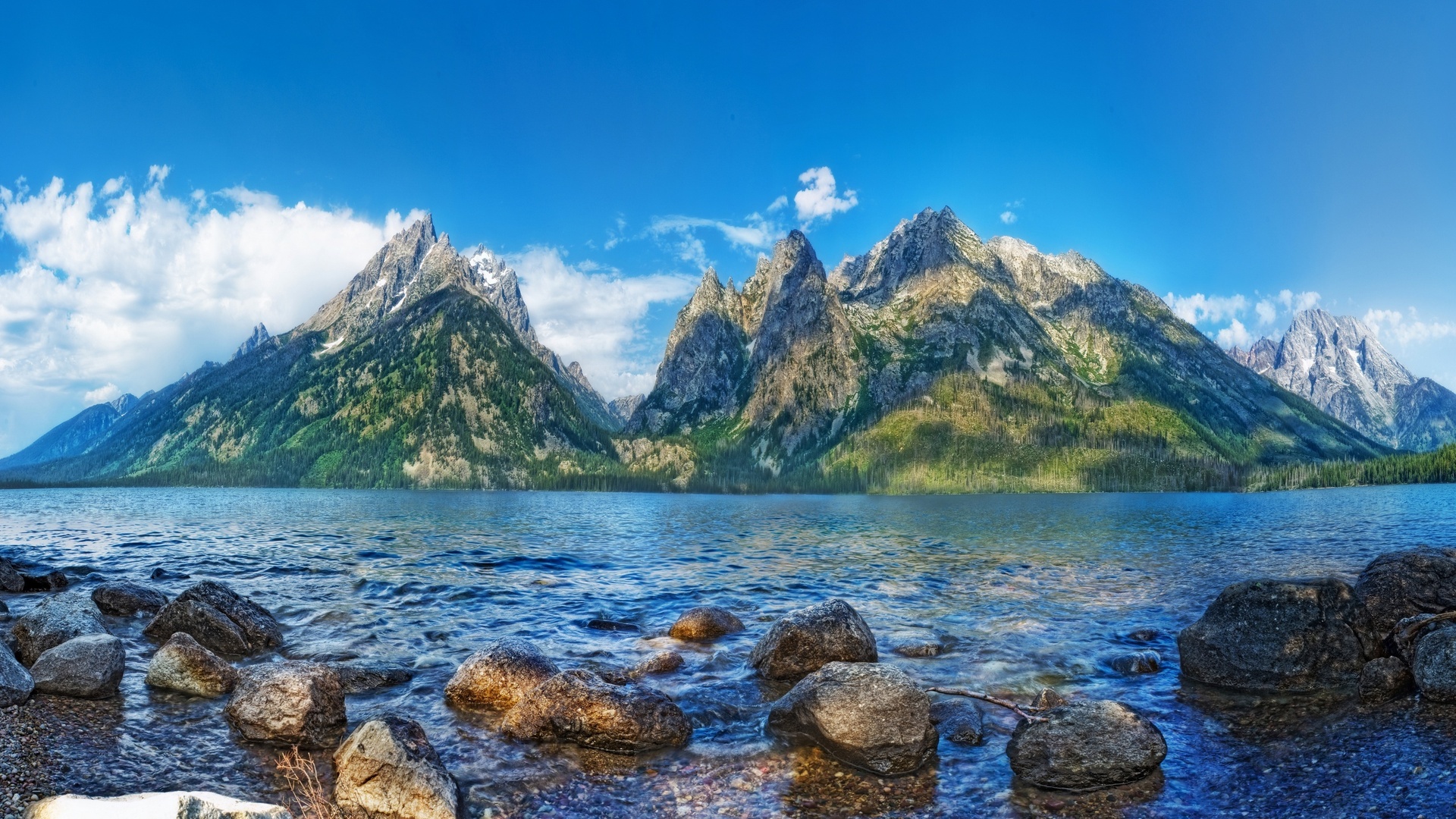 We had to bring it back around to the United States. It's no secret to outdoorsmen that Wyoming is one of the last true frontiers in the U.S.. Grand Teton National Park is one of the many gems in Wyoming inviting curious explorers with open arms. It's absolutely gorgeous, and there is so much to do it's overwhelming. Rock climbing, hiking, canoeing, and kayaking, are just a few of the activities to keep you busy.
There are several lakes to kayak in Grend Teton, and locals who know the area will reel off hundreds of spots that are must-sees. We're not going to fill the rest of this post with top-notch locations, but know that there is an abundance of them just begging to be paddled. Wyoming has tons to offer, and it you live in the U.S., it's not much of a stretch to make it there!
Hornstrandir, Iceland
The more knowledgeable sea kayakers among you will know about Hornstrandir, and it's probably been on your travel bucket list for a while. If you're just starting out with sea kayaking, this one may have to wait until you further develop your skills.
Iceland is a country that oozes toughness and ruggedness, and this excursion is the summation of those traits, and is really for experienced kayakers only. It's remote, the cliffsides are dramatic, the weather is fierce, and the sea is unforgiving. If you do choose to go, make sure the conditions are right and tag along with an experienced local even if you consider yourself to be well versed in sea kayaking. The last thing we want is for you to get stranded!
We hope we haven't put you off too much as Hornstrandir made our top ten list for a reason: it's majestic, and offers a unique and memorable kayaking experience not to be missed (if you've got the skills).
The Greek Islands
This one shouldn't be much of a surprise. The Greek Islands are famous for their yacht week where some of the richest yacht owners in the world gather and show off their toys. However, for those of us who prefer our boats a little smaller (and much cheaper), the Greek Islands provides thousands of square miles of excellent sea kayaking waters. The water is clear, the sea is calm, and the views are spectacular.
You can fill your days soaking in the beauty of the islands and marveling at the brightly coloured townships on the shore, or explore the many remote coves around the islands. For the most part, the kayaking should be fine for beginners, however, we always recommend being in the company of an experienced kayaker.
Abel Tasman National Park, New Zealand
New Zealand is the mecca of outdoor adventures. You'll never be short of a mountain to climb, waterway to be paddled, or somewhere new to explore. It's hard to pick just one location from the many great places to kayak in New Zealand. However, the jaw-dropping beauty of Abel Tasman National Park makes it a stand-out attraction for me.
The giant national park is home to an abundance of wildlife and has remote coves, beaches, caves, and many islands to fuel your wanderlust. However, with Kiwis making the most of their own backyard and droves of tourists pouring into New Zealand each year, you may be jostling for space amongst the water taxis, fishing boats, and guided groups of kayakers in summer.
Croatian Islands
The Croatian coastline is much different than its neighbors to the south. The coast is filled with pine forests and limestone cliffs. It's not necessarily the tropical paradise you would expect to find in the South Pacific, but it's a unique trip that you'll never forget.
The many islands off the coast of Croatia offer a huge playground for kayakers. You could spend a lifetime paddling around the islands and still not feel as if you've seen it all. However, if you're only visiting the area, you will be able to squeeze in most of the leading attractions with guided day trips. But just remember that you'll need to be reasonably fit before you sign up for an eight-day island hopping tour.
Kenai Fjords, Alaska
Considered the final frontier of the U.S., Alaska provides an experience that no other location in the U.S. can offer. If you've ever seen Into the Wild, you should know that it's not the best idea to tackle Alaska alone. Even for experienced yakkers or outdoorsmen, it can be a challenge of epic proportions and the potential for something to go horribly wrong is ever present.
But if you're brave enough, Alaska is an incredible place with tons of wildlife and a magical landscape. It's a journey wholly deserving of the "trip of a lifetime" title. You're best tackling the Alaskan coastline with a group of experienced sea kayakers and a local guide (for fairly obvious reasons).
Scotland's West Coast
Scotland's western coast doesn't get near enough the attention it deserves. It has tons of sea lochs and islands providing endless adventure, and the magnificent coastline is as sharp and rugged as it is beautiful. Guided tours are highly recommended if you want to fully appreciate the scenery and get an insight into the buildings that are hundreds of years old and steeped in history.
There are lots of bold and beautiful places to visit around the West Coast, but if you're after something extra special, we recommend the guided tour of the Isle of Skye.
Looking for More Trip Ideas?
Sitons.com asked 500 watersport enthusiasts to list their top sea kayaking destinations in the world, their best UK locations, and their favorite rivers to paddle. The result is this great infographic.