As an Amazon Associate, we earn from qualifying purchases. This is without any additional costs for the buyer but does support us in maintaining our website.
If you don't already know much about angler boats to begin with, the prospect of choosing an inflatable fishing boat might seem a little daunting. How does an inflatable vessel work? Are they safe? What features are nice-to-have versus those that are must-have? There are so many questions to answer before finding the right blow up fishing boat for you!
Luckily, I'm here to help provide some of the answers you're looking for when it comes to choosing the best inflatable fishing boat. We're going to walk through a two-step process of identifying what to look for in a fishing boat, and then take a look at some of the top options on the market.
Our Top 5 Inflatable Boats for Fishing
| Product | Weight | Capacity | Dimensions | Price | |
| --- | --- | --- | --- | --- | --- |
| | 72 lbs | 400 lbs | 9′ x 56″ x 30″ | $ | |
| | 43 lbs | 700 lbs | 13′ x 3′ x 16″ | $$ | |
| | 80 lbs | 900 lbs | 13′ x 54″ x 16″ | $$$ | |
| | 87 lbs | 880 lbs | 11′ x 57″ x 19″ | $ | |
| | 42 lbs | 450 lbs | 9′ x 4′ x 16″ | $$$ | |
Scroll down to see full reviews!
What Makes a Good Fishing Boat?
Fishing boats are vessels made specifically with the needs of the angler in mind, and usually cater to the storage and flexibility needs of anglers. While you could cast off almost any old boat, fishing boats make the experience much more enjoyable and hassle free.
Of all fishing vessels, the sit-on-top fishing kayak is the most popular among anglers. With a sealed hull design, these boats aren't in danger of sinking and are perfect for around the lake and slow-moving rivers. On top of their inability to fill with water, these kayaks are generally among the widest and most stable, leaving plenty of wiggle room for the angler to work. Their open top design also makes casting and catching much easier. You can find these boats with a myriad of storage and capacity features, so look around if you need more room or more than one seat.
We've already provided you with plenty of options for fishing kayaks, so we're not going to cover anymore today. So, back to what features make a good fishing boat…
The best inflatable fishing boats will have:
Multiple rod holders
Oar locks (essential)
An anchor system
Built-in compartments for fish finders
Plenty of mounts for other accessories
Integrated tackle boxes
Enough capacity for you, your buddies, and your gear (essential)
Motor mount fitting (I would say essential – see below)
Chances are, there's a blow up fishing boat with all or a combination of these features manufactured for your exact needs!
Maybe you want some shade when fishing? The Saturn FK396 can fit a canopy
Solo or Duo?
If you're planning to paddle and fish with a partner, you'll want to make sure your inflatable boat choice leaves plenty of casting space for both of you. Your chosen boat will also have to support the weight of both people and all your gear, so be sure to check the load ratings.
For solo anglers, you'll be able to find lighter, cheaper, and more agile inflatable fishing vessels at a reasonable price.
High Pressure VS Low Pressure Models
As inflatable boat technology moves forward, new releases are becoming ever more advanced. One major improvement recently is the adoption of high-pressure inflation in some inflatable boats. With superior stitching and advanced fabrics, these boats can be inflated to greater pressures than older models, resulting in a more rigid hull.
Low-pressure boats will be less expensive as they utilise welded seams and baffles. However, what you gain in savings, you lose in efficiency as these boats sag under heavy load and from the pressure of paddling – thus sapping the effectiveness of each paddle stroke.
High-pressure boats rely on advanced stitching and materials and can, therefore, handle considerably higher pressures. The body is much more firm and efficient in the water and will perform much the same as a traditional boat.
Packability
Some inflatable boats can be rolled up and carried in a rucksack while others may be more suited for transporting in the back of the car. Packing down your kayak into a manageable size for inside your vehicle means more miles for your dollar compared to carrying it atop the vehicle, as well as more convenience.
Storing your boat in the boot of your car also means you're ready to take advantage of spare time and good weather at the drop of a hat. Look for frameless models if you want to fold your boat into the smallest space possible.
Weight
Choose a boat which makes the most sense for your needs. If you're planning to carry the boat around on your back, you'll want to spend top dollar to purchase a model which features extremely low weight and size when packed. If, however, you just want a boat which can fit in the back of the family car, then weight may be a secondary decision. Usually, lightweight boats are substantially more expensive, so avoid them unless it's truly necessary.
Motor Mount
Many of the features of fishing boats, such as rod holders, make fishing easier but are by no means essential. Motors could be considered optional, but in my mind, they are a must-have item. Trust me; if you're going to be spending significant time out on the water, you will NOT want to be paddling the whole time.
A small electric or petrol motor will make travelling long distances easy and will also allow you to troll. The mounting apparatus and trolling motor can be picked up for a couple hundred dollars – absolutely worth it!
Inflatable Fishing Boat Reviews
| Product | Weight | Capacity | Dimensions | Price | Our Rating |
| --- | --- | --- | --- | --- | --- |
| | 72 lbs | 400 lbs | 9′ x 56″ x 30″ | $ | |
| | 43 lbs | 700 lbs | 13′ x 3′ x 16″ | $$ | |
| | 80 lbs | 900 lbs | 13′ x 54″ x 16″ | $$$ | |
| | 87 lbs | 880 lbs | 11′ x 57″ x 19″ | $ | |
| | 42 lbs | 450 lbs | 9′ x 4′ x 16″ | $$$ | |
Scroll down to see full reviews!
Classic Accessories Colorado Pontoon Boat
Without a doubt, this is my top-pick for solo anglers looking for an inflatable boat for fishing. With an inflatable/steel tube hybrid frame, you'll get rigidity, durability, and flexibility at the same time.
Both the oar locks and the rod holder can be mounted in any of three available positions so you can really fine-tune the function of this inflatable boat. At the rear of the boat, the two-position motor mount leaves room for gear while attaching firmly to the steel frame for reliable performance.
Classic Accessories has even taken the time to include a fillable mesh anchor with pulley-assisted lowering and raising which can be mounted to either side of the boat to fit your preferences. The fold down seat is great for storing overnight to avoid a wet butt in the morning. You can either rest your feet on the steel footrests or let them dangle in the water.
By far the most fine-tuned of all inflatable one man fishing boats! The Colorado is perfect for the angler seeking serious quality, yet it remains extremely affordable.
CLICK HERE FOR MORE REVIEWS AND TO CHECK PRICE
Saturn 13′ Pro-Angler Fishing Inflatable Kayak FK396
With a beefy shipping weight of 43 pounds, it's safe to say that this boat is lightweight and packable for its two-person capacity. With 1100 Dtex PVC fabric construction, the hull material will be nearly bombproof – but that's not an invitation to paddle over rocks.
With a nod to great design and forethought, the manufacturers have even double coated the boat with dual layer PVC to prevent any accidental fishing hook punctures. You'll even have enough rigidity with the included aluminum seats installed to be able to stand up and fish if you're the adventurous type. Seats can be used to mount hardware such as rod holders, GPS brackets, or fish finders.
Saturn was thoughtful enough to include two Velcro storage areas for paddles when not in use to keep them off the decking. Repair kit, spare air valve, hand pump, and paddles are included.
CLICK HERE FOR MORE REVIEWS AND TO CHECK PRICE
Saturn 13 ft Kaboat SK385Xl Inflatable Kayak Crossover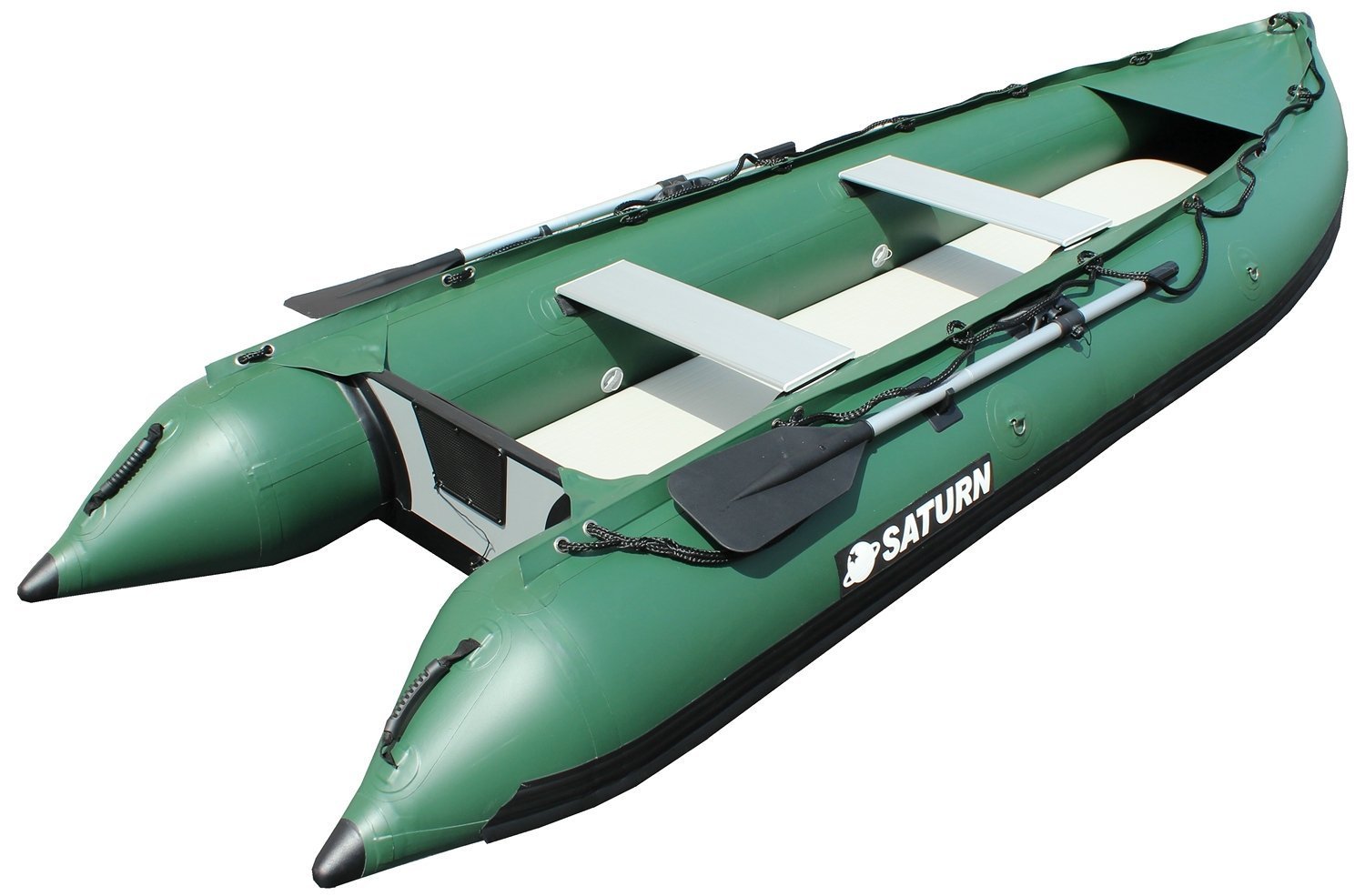 Using the same 1100 Dtex PVC fiber for solid construction, Saturn produced this inflatable fishing boat with a little more horsepower – literally. The double hull design is made to accept a mounted gasoline outboard engine up to 10HP. With a boat weighing only ~95 lbs you'll be ripping across the lake at incredible speed with any size gasoline engine.
Just like its little brother, this Saturn inflatable kayak crossover features aluminum bench seats and paddle storage space. You'll find 4 skegs on the bottom of this boat for better directional tracking which will be helpful with any mounted engine.
Want to kip the engine? Try mounting a trolling motor or simply leaving them at home and paddling the boat. With a wide desk and four skegs, the boat is going to paddle in a straight line every time you put in a paddle stroke. I'd recommend this for anyone looking to occasionally paddle and also wanting the option of an attachable engine for larger bodies of water.
CLICK HERE FOR MORE REVIEWS AND TO CHECK PRICE
Intex Mariner 4, 4-Person Inflatable Boat
Perfect for the inflatable angler on a budget, this boat is big enough for you and the kids. With room for up to four people and an overall 880-pound load bearing capacity, you'll be able to take all the tackle and gear you want, plus the kids!
The Mariner 4 has integrated plastic oar locks which work with the included oars. My biggest reservation is having seen too many oar locks fail in the field on aluminum and steel boats. I can only imagine that the lifespan of these plastic oar locks can best be measured in days.
Specifically for anglers, Intex has included two rod holders which will be nice for traveling to and from destinations or storing your equipment when taking the kids out for a row. You'll find that the boat includes a battery pouch for trolling motors, inflatable seats, repair kit, 54" aluminum oars, and hand pump.
CLICK HERE FOR MORE REVIEWS AND TO CHECK PRICE
Sea Eagle 285 Inflatable Frameless Fishing Pontoon Boat
If you're looking for the perfect hybrid between kayak and boat for your next fishing trip, this might be the top choice. You'll be able to paddle with the included and stored oars which lock to the side of the boat or use the built-in motor mount.
With the capacity to handle up to 3hp output 45lbs (weight) motors, this boat weighs so little that it'll take off like a rocket with just a small motor. There's plenty of included storage room around the 1000 denier inflatable boat for all your tackle and rods. It'll even draft flawlessly in as little as 4" of water if you pull up the motor and paddle along.
Unlike the other boats on our list, this one is tailored for a motor by putting the driver on a flexible swivel seat to help you turn and access the motor controls more easily. You'll get a repair kit, oars, foot pump, and 3-year warranty with your boat for peace of mind with your investment.
CLICK HERE FOR MORE REVIEWS AND TO CHECK PRICE
Conclusion
There are as many considerations in choosing your next fishing boat as there are waterholes to fish in! If you're looking to have the lightweight and flexible deployment of an inflatable boat with the ease of a gasoline engine, there's something on our list for you!
Some anglers are looking for a more traditional paddling experience, and if that's you, then my suggestion would be the Saturn 13' Pro Angler Inflatable Kayak. But if you're looking for a motor powered inflatable boat that comes with all the bells and whistles yet remains affordable, then the Classic Accessories Colorado Pontoon Boat is for you. It's our top pick and the clear winner of our round-up.