As an Amazon Associate, we earn from qualifying purchases. This is without any additional costs for the buyer but does support us in maintaining our website.
Going down under has got you covered in terms of adventure sports. Whether it's the thrill of bungee jumping, or exploring the country's dive spots, New Zealand has a lot to offer both in and out of the water.
And if you are looking for a great place to kayak, kiwi waterways are unbeatable by world standards. Kayaking spots are not hard to find, and the best ones have incredible scenery, as well as a great set up for traveling paddlers.
To help avid kayakers make the most of what this beautiful country offers, here's a roundup of the best kayaking in New Zealand.
All of the locations have nearby places to hire kayaks, and many of them offer guided tours – although you're always free to explore New Zealand waters on your own. With such variety on offer, kayakers of all levels will find something that tickles their fancy, whether that's a glassy lake or churning surf.
1. Mount Maunganui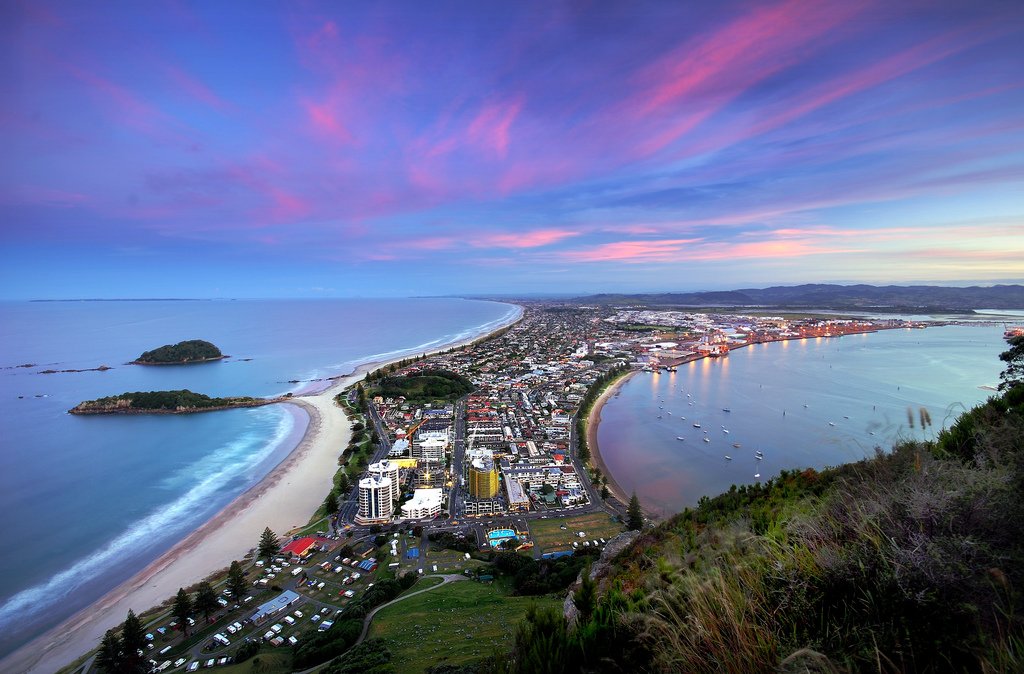 Guarding the Bay of Plenty since the first settlers arrived, volcano Mauao stands tall above a gorgeous bay. The sands below are a pristine white, and the water is an idyllic shade of turquoise. Known by locals as 'the mount', this is one of the most popular beaches in New Zealand.
Across from the beach lies a sheltered harbor, providing an easy launch into the completely flat, shallow water. A short paddle around to the mount will bring you to open sea, where you can drift along in your kayak and appreciate the spectacular views of the mountain and surrounding seaside.
Wildlife encounters are common, with fur seals, orcas, and even penguins coming to the mount in their seasons.
Kayaking difficulty is yours to set, with a wide-range of routes and tours to choose from.
2. Lake Taupo
A place that should be on the bucket list for any trip to New Zealand, Taupo is a lake of epic proportions and the largest in the country.
The crystal clear waters and soft sand are inviting and friendly, attracting all kinds of water sports enthusiasts from sailors to jet skiers. Kayakers will find the paddle a relaxing experience, as the still, mirror-like waters are mostly calm and peaceful.
If you're looking for more of a thrill, white water rapids can be found at the nearby Mohaka River and the other rivers flowing into the lake.
Hiring a kayak here is super easy, with a range of stalls set up along the shoreline.
3. Bay of Islands
At the top of New Zealand, lie 144 islands in a warm, tropical setting waiting for you to explore. However, you won't be alone, as the islands and surrounding waters are home to an abundance of marine mammals including common dolphins, bottlenose dolphins, orcas, Brydes whales, and seals.
With just as diverse wildlife under the water, the islands are also perfect for kayak fishing or big game fishing if you're looking to catch something you can boast about for years to come. Book a day's chartered fishing and don't miss the chance to make that legendary catch.
If you're not a fisherman, you'll not be left bored, as there's plenty of exhilarating sea kayaking to keep you entertained. Exploring the bays, you'll discover secluded beaches, luxury properties, forests of mangroves, and even waterfalls.
With so many little nooks to discover, it can be hard to check them all off. If your stay is short, it's worth booking a guided kayak tour to make sure you don't miss out on the best treasures these islands have to offer.
4. Abel Tasman National Park
This area of New Zealand is virtually untouched. Its natural beauty is remarkable, and it's hard to find anywhere that will top the Abel Tasman National Park's wow factors. Although it's the smallest of the NZ National Parks, Abel Tasman is easily the richest in terms of beautiful waterways.
As you could have guessed, kayaking is a popular activity here, and there are many ways to explore the area ranging from solo expeditions, to five-day tours complete with overnight stays.
Setting off from golden sand beaches, your paddle adventures will see you explore stunning coastal islands while being baked in glorious South Island sun. If you ever get bored of salty water, the rivers just to the south of the park have some of the best rapids in the country.
5. Stewart Island
Situated way down the bottom of the New Zealand, you'll find this tiny, peaceful island. There's plenty of beautiful, lush green coast to explore, making the island a hit with fans of sea kayaking.
Stewart Island also has some of the most incredible nature sightseeing in New Zealand. Penguins, albatross, and seals are just some of the residents you'll find paddling around the island. Every day feels like a special day on Stewart Island, as you marvel at the landscapes and wildlife.
Being close to Antarctica, the water is chilly (especially during winter), and can be very choppy when there's a strong wind from the South. However, don't let that put you off, the scenery and undisturbed nature makes the visit worthwhile.
If you decide to explore Stewart Island, remember to wrap up warm and bring your spray skirt – sitting in chilly water is never a fun experience.
6. Cathedral Cove
Not far from Auckland and other North Island attractions, Cathedral Cove is a convenient choice offering breathtaking natural beauty. Located in the Coromandel – which is known for its sandy beaches, native forests, and chilled out vibe – this white sand beach is arguably the most beautiful coastal spot in New Zealand.
With several walking tracks winding through the scenic reserve, Cathedral Cove can be accessed by foot, however, getting there by kayak is much more fun. With tourism companies rating the experience as "one of the best sea kayaking trips in the country", this is a paddle adventure not to be missed.
The shoreline is breathtaking, the water clear and beautiful, and there's a sense of adventure as you paddle through sea caves and alongside volcanic islands.
Diving, sailing, and fishing are also popular around the cove, and it's easy to find equipment for hire no matter what you're into.
7. Kaikoura
Just north of Christchurch, on the east coast of the South Island, you'll find the seaside town of Kaikoura. With its mountain backdrop and beautiful coastline, it's easy to fall in love with the place.
The wildlife here is exceptional, with many species of whales (including orcas) and dolphins all paying visits to this unique coastline and two seal colonies also in town.
Though the water isn't the warmest, there is no better way to get connected with marine life than to experience it by paddling out. Those that make the venture will be rewarded as playful dolphins leap out of the water performing acrobatic flips and rolls.
With the small town ready and welcoming for tourists all year round, it's not hard to get gear or find a guide to help you create a truly magical wildlife experience.
8. Rangitoto
Just off the coast of Auckland, it's easy to get to Rangitoto by ferry – or, if you're feeling like a sea paddle, nothing beats kayaking to the island.
Due to restrictions placed on commercial operators, you can't rent kayaks to go to any of the islands (you can do what you please with your own kayak). However, many of the operators on Auckland's shores offer guided tours of the island.
Once you get there, be prepared for an action packed day with numerous trails running all over the island. The 360-degree views over Auckland at the peak are stunning and the perfect place to enjoy a bite to eat. Just make sure to bring a packed lunch as there are no shops or restaurants on Rangitoto.
If you lose track of time, paddling at night is not a problem, with the bright lights of Auckland's skyline ensuring that you find your way back easily.
9. Lake Rotorua
Rotorua is a lovely lake, with warm waters, gorgeous green scenery, and secluded bays dotted around its edges. However, it also offers something unique to those who paddle in its waters: hot pools!
A short paddle to the neighboring Lake Rotoiti through the Ohau Channel is a leisurely kayak, and will take you to the private, boat access only hot pools.
If you're looking for a holiday that is relaxing and refreshing, Lake Rotorua will cleanse your body and mind with its beautiful scenery and natural hot springs.
10. Marlborough Sounds
The Marlborough Sounds should not be missed by any traveler to New Zealand – especially not those who love to paddle. Besides being a great place to sea kayak, the location is also renowned for its wine – never a bad thing.
For the thrill seekers, the nearby Pelorus River offers some awesome rapids. However, without a doubt, the main attraction is kayaking in the astonishingly beautiful sounds.
Paddling across the water is an incredible experience, and you will feel as though you've walked into a postcard.
Share Your New Zealand Kayak Destinations
I hope you've enjoyed our round up of the best kayak destinations in New Zealand. However, this post is just the tip of the iceberg for kayakers visiting New Zealand.
This beautiful country is surrounded by water and has lakes and rivers dotted throughout. There are many secret spots waiting for you to discover, and the best way to do so, is by making friends with a kiwi kayaker and  tagging along on a trip.
If I've missed anywhere you feel deserves to be on this list, please share it in the comments below.